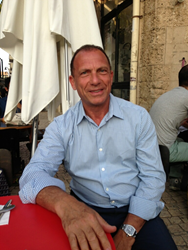 We always look forward to visiting New York City and interacting with our guests at these talks. Due to advances in medicine it's an exciting time for patients to pursue surrogacy because success rates have never been higher.
(PRWEB) March 11, 2014
Two of the New York Metropolitan area's leaders in surrogacy and IVF, New England Fertility and Reproductive Possibilities, invite the public to an upcoming evening seminar Wednesday, March 26, 2014, at The JCC in Manhattan at 7:30 p.m.
The JCC in Manhattan is located at 334 Amsterdam Avenue in New York City's Upper West Side.
The presenters, Dr. Gad Lavy, founder and medical director of New England Fertility, and Melissa Brisman, Esq., owner and founder of Reproductive Possibilities, a full service surrogacy agency, will speak about important topics for those considering surrogacy including: how to pick a surrogate, the finances of surrogacy, the latest technology being utilized in IVF, legal issues, logistics, and egg donors. The pair will also answer audience questions.
"We always look forward to visiting New York City and interacting with our guests at these talks," Gad Lavy, MD, said. "Due to advances in medicine it's an exciting time for patients to pursue surrogacy because success rates have never been higher."
A limited number of private complimentary consultations with New England Fertility are also available prior to the event. Pre-registration for the seminar and private consultations can be done via New England Fertility's website http://www.NEFertility.com