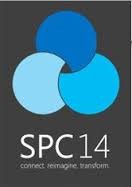 It was so rewarding to see people's faces light up as they began to realize the potential this solution has for empowering SharePoint users by giving them the in-context help they need right from the SharePoint ribbon
Plainfield, IL (PRWEB) March 12, 2014
SharePoint-Videos.com exhibited at the SharePoint Conference in Las Vegas, March 2-6, 2014. The conference was flooded with many innovative ideas from SharePoint vendors, along with exciting announcements from Microsoft introducing new opportunities for collaboration and sharing within SharePoint.
At the SharePoint-Videos.com booth, the company showcased its signature product: VisualSP™ - the SharePoint help system which provides in-context, on-demand help delivered via the SharePoint ribbon. This SharePoint support solution has been in production for two years with more than 150,000 current users, however, this was the first time many organizations were introduced to the platform. One excited architect called VisualSP "the magic bullet " as he realized the potential this system had to support end users within his organization.
As a follow-up to the conference, SharePoint-Videos.com invites attendees to learn more about VisualSP, as well as the other online SharePoint training tools available via the company website.

"This conference was the first opportunity we've had to get in front of the SharePoint community exclusively to demonstrate how our SharePoint help system works," explains Asif Rehmani. "It was so rewarding to see people's faces light up as they began to realize the potential this solution has for empowering SharePoint users by giving them the in-context help they need right from the SharePoint ribbon."
About Sharepoint-Videos.com (Rehmani Consulting, Inc.)
SharePoint-Videos.com (SPVideos) focuses on empowering information workers, technical decision makers, administrators and developers in corporate environments with the SharePoint knowledge they need to be successful. SPVideos is the creator of the VisualSP™ SharePoint Help System which provides in-context technical training delivered to users through a Help tab in the SharePoint ribbon. There are also hundreds of video tutorials, online classes, and consulting services available on the website to assist SharePoint users in building powerful solutions while using the SharePoint platform effectively. http://www.SharePoint-Videos.com.