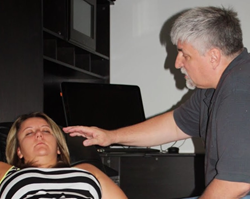 "The class exceeded my expectations. I enjoyed the class & would recommend it to hypnotists who wish to improve their skills." Robert Bruckner, CHt., New Jersey
Washington, DC (PRWEB) March 13, 2014
Omni Hypnosis Training Center of Washington, DC Sponsoring Weekend Ultra-Height® Training Hosted by Galaxy Hypnosis of Crofton, MD
Ultra-Height® Hypnosis helps people identify and resolve or overcome problems faster than traditional hypnotic techniques. Some of the most serious and difficult problems that the client and the hypnotist face have been successfully dealt with using Ultra-Height® Hypnosis. Ultra-Height® works by bringing the mental awareness of the individual up to an extremely high level; the client cannot only accomplish self-analysis, discovery of the cause of issues, both mental and physical, but is also frequently able to correct the problem themselves, without assistance from the hypnotist.
This seminar will be taught by Larry Lambert. Larry is the director of the Omni Hypnosis Training Center® of Washington, DC. Larry not only teaches Ultra-Height®; he also utilizes Ultra-Height® in his hypnosis practice. His Ultra-Height clients report remarkable assistance and resolution to not just their reporting problem but also many other life issues and concerns. This technique allows the hypnosis' subject to receive and accept assistance while restfully allowing the process to work on their behalf. Most return to full awareness knowing that they have received phenomenal assistance from within themselves. Burdens lifted, profound relief, weight of their world released,complex issues given solutions. This technique allows for inner healing often times instantaneously.
About Omni: Omni Hypnosis Training Centers® today are global leaders in hypnosis training. Gerald Kein is the founder of the original Omni Hypnosis Training Center® in DeLand, Florida. Having trained thousands of hypnotists and hypnotherapists in over eighty countries, he is widely recognized as one of this country's leading instructors of clinical hypnotism. Gerald Kein discovered the Ultra-Height technique while working to find better ways to help his clients achieve positive change and healing. There are Omni training centers in the United States, Germany, South Korea, the Netherlands, Romania, Slovenia, and Switzerland. The Omni Hypnosis Training Center® of Washington, DC works to provide the best hypnosis certification training and continuing education options for practicing hypnotists. For more information you can call us at 301-202-3605, or visit our website on line at http://www.omnihypnosis-dc.com, or our offices in the Crofton Medical and Professional Building located at 1667 Crofton Center, Suite 4, Crofton, MD 21114. This training location is within a 2-hour drive of 4 international airports. Lodging accommodations are plentiful in the area and some are recommended on the website.