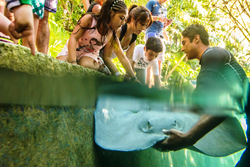 All the specimens visitors can onserve in Xcaret Cancun are either born in the park
Cancun, Quintana Roo, Mexico. (PRWEB) March 11, 2014
In its eagerness to create unique Cancun and Riviera Maya activities that visitors will not forget, Xcaret Park has set into motion a novel and original way for tourists to share special moments with some of the most important wild life species that have made Xcaret their home.
Starting this month, visitors at the Eco Park will be able to witness a unique flamingo parade, observe how a jaguar is fed, help sea turtle caretakers during feeding time, aid newly born butterflies in their first flutters, and attend a flight practice with scarlet macaw specimens that turn the sky into a rainbow of colors with their beautiful feathers.
These activities in Cancun that were only enjoyed by the few privileged regional fauna staff are now open to the public so that those who wish can assist in the special care these animals receive. Because of the nature of the activity, there is limited capacity, thus, it is advised that those interested in participating sign up at their arrival to the Eco Park.
All the specimens visitors can observe in Xcaret Cancun are either born in the park, byproducts of reproduction programs to preserve endangered species or rescued animals. In the case of the flamingos, 111 births were registered between 2004 and 2013 and, as far as butterflies are concerned, there have been more than 180 thousand births between 1999 and 2013.
The Sea Turtle Program in the Riviera Maya coordinated by the Flora, Fauna y Cultura de México not-for-profit association has released more than 7 million sea turtles in the wild since its creation. The organization is the social and environmental branch of Experiencias Xcaret.
At the same time, the Red Macaw Reproduction Program has an average yearly birth rate of 120. In 2013, Xcaret Park began a program to reintroduce this species in the State of Chiapas, Mexico, where it became extinct more than 70 years ago. To this day, the program has had a 100 percent survival rate of specimens registered thanks to a strategic alliance with the Autonomous University of Mexico, the Aluxes Park in Palenque and the organization Acajungla A.C.
ABOUT XCARET PARK
Xcaret Cancun is a majestic Eco Park by the sea with unique activities in the heart of the jungle where visitors have fun while discovering the natural and cultural treasures of Mexico through its underground rivers, wild land and water fauna, cuisine and artistic expressions.