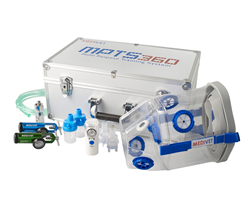 MediVet's MPTS360 is a superior mask for nebulising horses with its state-of-the-art nebulisation technology. - Dr David Evans PhD BVSc
(PRWEB) March 12, 2014
Human & Animal Healthcare Company, Medical Australia Limited, today announced the development of the world's first complete medical delivery and training mask for horses, the Multi-Purpose Training System (MPTS360). The breakthrough technology was developed collaboratively between MLA and MediVet, and the patented technology is set to be officially launched in Australia in March.
The MPTS360 features dual-nebulisation technologies that can be administered through both Jet Nebulisers powered by oxygen or the latest vibrating mesh Ultrasonic Nebuliser. A study conducted in association with the University of Sydney confirmed the MPTS360 Nebuliser Technology is up to 500% more effective in the delivery of key medications, including Autologous Conditioned Serum (1) (available through MediVet's Laboratory Service in Sydney, USA and UK) when compared to the current market leading equine nebuliser.
The MPTS360 has been designed using one-way inlet and outlet valves and a tight seal on the horse, ensuring no exhaled air is re-breathed and no medication is being wasted. The state-of-the-art training mask also possesses Hyperoxic Training (Oxygen Therapy) and Hypoxic Training (High-Altitude Simulation) capabilities.
MediVet is in the process of developing a pipeline of proprietary new animal healthcare products to be delivered through the MPTS360 Nebulisers. These products include regenerative compounds, gastro products and products targeted towards regeneration of the respiratory system and the management of exercise induced injuries.
Dr David Evans PhD BVSc said: "MediVet's MPTS360 is a superior mask for nebulising horses with its state-of-the-art nebulisation technology. The MPTS360 has the ability to be used in conjunction with other products, such as Autologous Conditioned Serum (ACS) to treat Airway Inflammation symptoms, including Reactive Airways Disease (RAD) and Inflammatory Airways Disease IAD."
Mr Garry Andrews, Vice President of Animal Health said: "The MPTS360 mask has delivered phenomenal early results for veterinarians and trainers who have tested the product so far, and we look forward to delivering the new generation training technology to all equine disciplines. This breakthrough technology provides a genuine competitive edge, allowing horses to continually perform at their peak."
MediVet is currently looking for Distributors & Agents in Australia and overseas for the distribution and sale of the MPTS360. Mr Andrews continued: "We have received encouraging levels of enquiry from the equine industry and Veterinarians all wanting to take advantage of this revolutionary technology. Pleasingly, this is translating into a growing pipeline of orders."
For more information, please contact MediVet on 1800 356 505 to speak to one of our equine specialists or visit http://www.MPTS360.com.
(1) To view the University of Sydney Particle Distribution Report visit http://mpts360.com/sites/default/files/medivet_particle_distribution_summary_report_university_of_%20sydney_0.pdf