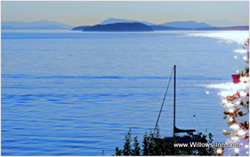 "The Site of Spring" -- 50% off Thursday or Sunday night, or 2-for-1 Sunday through Thursday until May 1.
Lummi Island, Washington (PRWEB) March 11, 2014
As the San Juan Islands greet more daylight and the arrival of spring, the Willows Inn on Lummi Island presents guests a pair of "The Site of Spring" Specials:
Option 1: Book any on-site room for a Thursday night or a Sunday night and receive 50% off of your room rate.
Option 2: Book any on-site room from Sunday-through-Thursday and stay the following night free.*
(*When the room rate varies because of the night of the week and other factors, the lower of the two room rates will be deducted from the final billing. Saturday nights are excluded from the 2-for-1 special.)
The quaint 104-year-old Willows Inn houses seven rooms on the premises, and the seasonal room rates for these start at $185 a night, single- or double-occupancy. Select a date on the Willows Inn's website Reservations page for availability and rates for Sunrise, Sunset, Sucia, The Honeysuckle Room, The Heather Room, The Haven, and The Cottage.
Rates vary according to whether the dining room is serving, which is Thursday-through-Sunday weekly until May. The nationally-acclaimed restaurant that stages one seating of 30 for its pre fixe dinner ($165/person) reopens Thursday (March 13) from its annual two-month winter sabbatical for the chef staff.
Guests of the inn hold first priority for dinner reservations. For dinner only, reservations can only be made starting two weeks from the preferred date.
Lummi Island offers many activities for overnighters, and the Willows Inn concierge staff will assist visitors in planning hikes on preserved natural trails, bicycling, kayaking (as weather permits), a rock hunt on the inn's Sunset Beach, spa treatments, visiting local artisans, or relaxing in front of the great room fireplace or in the hot tub with a good book.
Visit the Willows Inn on Lummi Island website, or call now for more information: toll-free 888-294-2620 (local 360-758-2620).
NOTE: Other special dates on the calendar at The Willows Inn on Lummi Island include the Authors Series, featuring librarian extraordinaire Nancy Pearl of NPR renown March 19-21, and New York Times bestseller Jamie Ford April 23-24, coordinated with Village Books, an independent bookseller in Bellingham, Wash.