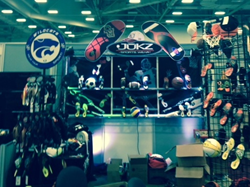 CAMEX is an incredibly important event for our brand
Dallas, TX (PRWEB) March 31, 2014
The Campus Marketing Expo, or CAMEX, kicked off at the Kay Bailey Hutchinson Convention Center in Dallas, TX. The expo has two components, an education portion and a trade show. The eduction portion just wrapped up and the trade show started on Sunday.
"CAMEX is an incredibly important event for our brand," said Jukz Shoes CEO Johnny de la Valdene.
"It's a place where we get to interact with collegiate bookstores, athletic departments and university administrators from all over the country," said de la Valdene.
Collegiate licensing is a crucial component of Jukz Shoes' strategy. Jukz's shoes are a perfect fit for athletic programs. According to de la Valdene, "collegiate licenses allow Jukz to connect with students, parents, and alumni in a incredible way that was previously only available to larger companies that manufacturer overseas," said de la Valdene
Jukz knows that sports fans love their sport. They also know that people are passionate about their school. It's a natural fit.
"The first day of the show was incredible," said de la Valdene.
Jukz Shoes was able to network with universities and colleges like Duke, Oklahoma, USC, North Carolina, North Carolina State and bookstores from colleges all across the country. Community colleges from South Dakota to Maine stopped by to check out the sports shoes.
Jukz Shoes sponsored the conventions best party Sunday night at St. Ann's. All expo attendees were invited. Jukz brought in TJ Broscoff and Johnny Cooper to play.
June Jones, the coach of SMU's football team came by the party. General manager and President of Basketball Operations for the Dallas Mavericks, Donnie Nelson was in attendance with George Killebrew, Executive Vice President of the Dallas Mavericks.
CAMEX runs through March 11th. Conference participants that stopped by the Jukz Shoes booth and dropped off a business card had a chance at free shoes, hats, and backpacks.
To find out more information about getting your logo or mascot on a pair of Jukz, please visit the website at http://www.JukzShoes.com