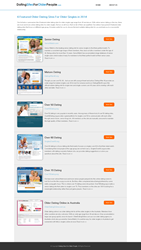 (PRWEB) March 27, 2014
Online dating and dating in general can be extremely overwhelming. If a person is new to the online dating community, it can be hard to know where to look for compatible and honest matches. The online dating community has grown over the years and now there are several sites that offer online dating services specifically targeted to older singles. Now a new site, DatingSitesForOlderPeople.com outlines and summarizes six featured online dating sites specifically targeted towards older singles.
The site gently summarizes six featured online dating sites that were picked by editors of Dating Sites for Older People. Age ranges are targeted to singles over the age of 30 and include sites like Senior Dating, Mature Dating, Over 50 Dating, Singles Over 60, Over 70 dating, and Older Dating Online in Australia.
Many who turn to online dating often do so because they have difficulty meeting people in more traditional settings. Online dating for older singles is great for those that are looking for others with similar interests, goals, and maturity levels.
The editors at Dating Sites for Older People individually summarized each chosen site on popular subjects such as cost, features, user-friendliness and more. The content on Dating Sites for Older People allows for a wealth of information before signing up for those older dating sites. It includes senior dating site review, mature dating site review, over 50 dating site review and more. The dating sites listed on Dating Sites for Older People have browsing and search capability for all over the world, making it easy to sign up and browse on all the sites so singles can choose sites simply on costs and features.
It is perfect for those who have thought about signing up for online dating but are overwhelmed with the amount of sites to choose from or are not sure what the difference is between different older dating sites, DatingSitesForOlderPeople.com is a useful tool to those new in the online dating community.
There are already millions of singles signed up on these dating sites along with many different success stories of singles meeting their partner on the site.
For more information or to start reading quality reviews of these popular dating sites for older singles, please visit http://www.DatingSitesforOlderPeople.com.