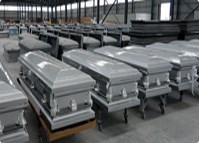 (PRWEB) March 12, 2014
Recently, MillionaireCasket.com, a well-known casket company from China, has released several new solid wood caskets, and announced a new casket promotion. According to the CEO of the company, any wood casket order can get a discount, up to 30% off, before March 31, 2013.
The new wood caskets include solid oak wood caskets, solid poplar wood caskets, solid oak wood caskets, and more. Special attention is given to the design and engineering of each casket. These caskets are available in a variety of thicknesses and weights, and they are resistant to rust and corrosion.
"Each casket is manufactured carefully to the industry standards that consumers have come to expect. We manufacture premium quality wood caskets in a wide range of designs and styles available in both traditional and unusual wood species. A staff of professionally trained specialists are on hand here. Our caskets have greatly stimulated the company's business growth in the past few months," says Zoe Wong, CEO of the company.
She continues, "All our caskets are 100% manufactured with the high-quality craftsmanship and materials, and come with a special locking system that makes the metal caskets difficult to open once it has been closed. Please spend a few minutes to visit website, and we are recruiting distributors worldwide."
Moreover, the business makes and supplies urns, embalming tables, stretchers, church furniture, church trucks, keepsakes and other related funeral items for its global customers.
About MillionaireCasket.com
MillionaireCasket.com is a leading China casket manufacturer, and focuses on the business of casket wholesale. This company offers an exquisitely crafted line of all kinds of metal caskets, solid wood caskets, veneer caskets, cremation caskets, and more. The standard quality control policy is strictly applied here, and a third party quality assurance is also available. Visit http://www.millionairecasket.com/ for more details.