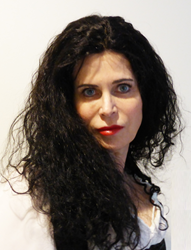 I was so enthralled that the music stuck with me for years to come.
WARREN, NJ (PRWEB) March 18, 2014
Eastern Opera of New Jersey opens its second season with Georges Bizet's popular tragic opera, Carmen. The opera will be performed in its original four acts with engaging and traditional stage direction by Eastern Opera's General Director, Karole Lewis. Eastern Opera Artistic Director and Conductor, Maestro Robert Butts, will be leading a robust chamber orchestra for each performance. Professional singers as well as a full chorus of adults and children will be drawn from various communities in New Jersey and New York.
Eastern Opera's Carmen will be performed March 22 and 29 at 8pm and March 23 and 30 at 3pm at the Brook Theater in Bound Brook, NJ. Carmen will be sung in English with a vibrant and easily accessible translation by Eastern Opera's General Director, Karole Lewis.
Carmen is an accessible opera for all including children. If you haven't ever been to an opera, Carmen is the one to see. Bizet's beautiful melodies have proliferated our lives as they have been played in television commercials and movies. "When I was in the 5th grade, my teacher told me we were going to see the opera "Carmen." Ms. Lewis said, "I was so enthralled that the music stuck with me for years to come."
The story of Carmen is rather simple in design. Boy meets girl and they get married. Girl leaves boy and boy gets mad. While the story is simple, the characters that make up the drama are anything but simple. Don Jose (played by Peter Lewis of Warren) is first seen as a soldier. In the original book by Prosper Mérimée, Jose killed a man and had to leave his town. He lives by the code of the Navarra and he wants to be honorable. However, when he meets Carmen (played by Karole Lewis) everything changes for him. Carmen is a gypsy full of fire. She lives by her own law. It is referenced that the loves of Carmen only last 6 months. Don Jose doesn't know this when he falls passionately and uncontrollably in love with her. Not only does Carmen convince him to let her escape from a prison sentence but then she convinces him to give up everything and become an outlaw. Unfortunately when she tires of his jealousy and constant persecution, she wants out. Don Jose pleads with her to take him back but she stands firm and says "no". This makes Don Jose so angry that in the end, he kills her.
While the main focus of Carmen is Carmen and Don Jose, other characters come in to mix it up. Michaela (played by Justyna Giermola of Fort Lee and Jacque Levia of Berkeley Heights), an orphan that Don Jose's mother took in, visits Jose just after Carmen has started to work her magic on Jose. Michaela arrives with a letter from Jose's mother asking Jose to marry Michaela. Jose says he will marry her but then he gets in deeper with Carmen when Carmen is arrested. Michaela comes back into the picture after Carmen and Jose have been together for 6 months and tells Jose that he needs to come with her because his mother is dying. This gives Carmen time to run off with Escamillo (played by Ted Dougherty of Jersey City) the Toreador.
Dr. Robert Butts, Artistic Director and Conductor for Carmen, comments on the human element of the opera which he states is worthy of a radical critic response in both modern times as well as when the opra was first performed at the Opera-Comique in Paris, France, on March 3, 1875. Dr. Butts, Conductor and Music Director of the Baroque Orchestra of New Jersey, discusses Carmen's place in the overall evolution of opera. He states, "In its original form, Carmen did not have the recitative one associates with opera, but spoken dialogue.
When one considers the use of popular songs connected with spoken dialogue interspersed with big production numbers, one realizes that Bizet was breaking with Romantic tradition and pointing in a new direction – theatrically, musically, and emotionally." Butts further states that the form Bizet uses in Carmen, in conjunction with other composers of the time, brought on "an awakening American artistic awareness that can be said to have set the stage for the Broadway Musical."
Eastern Opera's upcoming production of Carmen will prove to be an excellent theatre and musical experience for both longtime opera enthusiasts and newcomers to the world of opera—young and old. Eastern Opera Music Director, Paul J. Carroll states, "So much of the music is universally familiar. Even those who have never been to an opera will recognize a great deal of the music."
About Eastern Opera of New Jersey:
Eastern Opera Corp. is a nonprofit corporation organized and operated exclusively for charitable purposes. Specifically, Eastern Opera has been formed to encourage and instruct individuals for the purpose of improving and developing their capabilities, to educate the public on subjects useful to the individual and beneficial to the community, and to promote the arts and culture to the local communities. The first opera performance, Puccini's Madama Butterfly (May, 2013) was met with standing ovations. Subsequent performances have included fully-staged versions of Verdi's Otello and Strauss' Die Fledermaus, as well as concerts throughout the state of NJ. For more information contact Lou Kersey at loukersey(at)easternopera(dot)org or visit http://www.easternopera.org.
Tickets for "Carmen" are $35 general admission, $25 for students and seniors, and free for children under 12, and may be ordered by calling 908-566-5708 or online at http://www.easternopera.org/tickets. For more information, please visit http://www.easternopera.org.