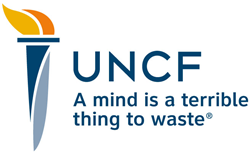 Atlanta, GA (PRWEB) March 11, 2014
On March 12, UNCF (the United Negro College Fund) will join officials from the office of Atlanta Mayor Kasim Reed and the Atlanta City Council, as well as top celebrities to announce that the 35th annual UNCF An Evening of Stars® television program is moving to its new home in Atlanta on April 6, 2014. The show's taping on April 6 will be the highlight of a weekend of events highlighting education and calling for support of UNCF and the students it serves.
For more information on this announcement, please contact Anthony Owens at 202.210.0862 or at Anthony.Owens(at)uncf(dot)org.
WHO:
Candace Byrd; Chief of Staff, Mayor Kasim Reed
Michael L. Lomax, Ph.D.; President and CEO, UNCF;
Anthony Anderson; Television Star and Host, UNCF An Evening of Stars®
WHAT:
Announcement of the 35th Annual UNCF An Evening of Stars®
WHEN:
March 12, 2014
11:30 AM [Media Check-In Begins at 10:45 AM]
WHERE:
City Hall Atrium
68 Mitchell Street, SW
Atlanta, GA
About UNCF
UNCF (United Negro College Fund) is the nation's largest and most effective minority education organization. To serve youth, the community and the nation, UNCF supports students' education and development through scholarships and other programs, strengthens its 37 member colleges and universities, and advocates for the importance of minority education and college readiness. UNCF institutions and other historically black colleges and universities are highly effective, awarding 20 percent of African American baccalaureate degrees. UNCF administers more than 400 programs, including scholarship, internship and fellowship, mentoring, summer enrichment, and curriculum and faculty development programs. Today, UNCF supports more than 60,000 students at over 900 colleges and universities across the country. Its logo features the UNCF torch of leadership in education and its widely recognized motto, "A mind is a terrible thing to waste."® Learn more at UNCF.org.