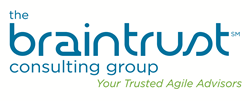 Birmingham, AL (PRWEB) March 12, 2014
The Braintrust Consulting Group will offer an Agile Engineering training course as part of a Certified Scrum Developer certification on April 15-17, 2014 in Nashville, TN at the Homewood Suites-Brentwood location.
The Agile Engineering class is aimed at helping software development professionals and teams be more effective when implementing Scrum and other Agile software development methodologies. http://www.braintrustgroup.com/class/agile-engineering-ae-nashville-tn-15-17-april-2014/
In an effort to raise the effectiveness of Scrum, the Scrum Alliance has created the Certified Scrum Developer (CSD) program. This class is designed to deliver the core Agile Development Practices Learning Objectives of that program and should prepare the participant to successfully pass the Scrum Alliance CSD Candidate Assessment.
This class is ideal for software developers, software development managers and software architects who have an understanding of Scrum principles and have previously learned specialized Agile engineering skills.
The CSD Track Two is intended for professional software developers who are on a Scrum team and want to understand how Scrum and agile engineering practices are applied. It's also ideal for candidates who already have their Certified ScrumMaster (CSM) certification or developers who are interested in move advanced Test Driven Development (TDD) techniques.
Members of the Project Management Institute will earn 21 Professional Development Units (PDUs) toward maintaining their existing credentials for attending this three-day class.
The Braintrust Consulting Group chose Nashville because of the robust software development industry that resides in Middle Tennessee. Braintrust President, Brian Rabon said, "Our decision to host classes in Nashville was based on the region's commitment to technology based companies that provide an array of opportunities in fields from music and entertainment to healthcare. We are proud to participate in their technology industry by bringing our world-class training to Nashville."
Erick Fleming, CSM, JCD, MCT, MSCD is a certified .NET and Java Developer with over 17 years of programming and training experience. Fleming holds a Bachelor's Degree in Management Information Systems from the University of South Florida. He has spent most of his career training and consulting with organizations on technologies ranging from .NET and Java to Linux and other open source tools, and specializes in cloud-based web solutions.
Individual attendee and group pricing are both available. To learn more about the Agile approach to training and additional upcoming classes, please visit: http://www.braintrustgroup.com/tour/nashville/.
###
About The Braintrust Consulting Group
With offices in Birmingham, Alabama, Los Angeles, California, and Salt Lake City, Utah. The Braintrust Consulting Group is a worldwide leader in Agile transformations. Through practical, hands-on training and enterprise and team coaching, we help our clients learn, plan, and implement Agile processes, such as Scrum and Kanban. Our goal is to teach our clients how to increase predictability of delivery, decrease time-to-market, and improve overall client satisfaction. http://www.braintrustgroup.com