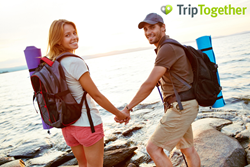 Triptogether.com is a great place to meet new people who share your interests and desires.
New York, NY (PRWEB) March 13, 2014
So you've booked your tickets and packed your bags. You're going on a great adventure across distant lands, to see different cultures and ways of life. So why is it best to go with a companion rather than on your own? Social travel website TripTogether.com knows that travelling together is brighter! One of the joys of having a travelling companion is having someone to share your experiences with. You can laugh together and go through any difficult scrapes you may encounter with someone you can trust.
Travelling is all about discovering new places and people. Finding the perfect someone to share your travel experiences and dreams with is a great way to uncover who may also share your desires.
What are the benefits of having a travel partner?

You can meet some really great people through travel. It may mean building a friendship that lasts a lifetime.
It's wonderful to have someone to share great memories with.
It is nice to have someone you can laugh with when you find something that makes you laugh out loud hilarious!
Where can I find the perfect travelling companion?
If you are serious about finding the perfect travelling partner, then consider using the online site that specialises in just this – TripTogether.com. Triptogether.com is a great place to meet new people who share your interests and desires. There are over 100,000 members on the social travel network waiting to meet someone just like you. With members organised by their desired destination and countless amazing profiles to look at, TripTogether.com makes it simple to find the right companion.
How do I get on well with my travel companion?
Once you have found your perfect traveling partner, it can be all too exciting to remember that being on the road with someone for the entire duration can be a challenging experience. Many traveling couples (not just romantic couples) find that spending a significant amount of time with the same person is a fully immersive experience.
It is a great idea to have a plan before you go. TripTogether.com suggests you take advantage of the relationships and resources you can find on the site, while discovering mutual interests and dislikes. Once you have an understanding of each other's wishes for the journey, you can start to think about how you can best meet both of your needs. This sort of organization will keep friendships alight and ensure that you avoid all obstacles.
1. Split your days – divide the days of your travel so that you both have the chance to see what you would like.
2. Organize the finer details – if you want to see a particular attraction, find out how much it will cost, how to get there and opening/closing times etc...This will save you both the headache of excitedly traveling to that special destination only to find that the attraction is closed once you arrive.
3. Agree on your budget – this is one of the most important points to make. It doesn't make for comfortable travel if one of you can't afford the price of accommodation or food that the other person likes. Put it all out on the table before the trip begins, and spend your time together enjoying yourself!
4. Take a break – don't forget to take some time out. Traveling on your own allows you to rest when you want to, so make sure when you're with a partner that you have some down time in your itinerary. This way you won't miss out on anyone's must see events.
These are just a few tips for keeping yourself and your travel partner happy. You never know, you may meet a travel mate for life.
About TripTogether
TripTogether.com is a social travel website and iPhone app aimed at matching single travelers and boosting the vacation plans of a membership of over 100,000. Visitors to TripTogether represent over 190 countries and 11,000 cities. With exciting features including Instant Chat, members can discuss planned trips online, hook-up with new friends from overseas, show visitors their favorite spots and share hot tips about real places of interest. TripTogether.com comprises a team of internet experts (all avid travelers) with over 15 years of experience. All profiles are verified by TripTogether staff, ensuring authentic interaction between members looking for the perfect travel friend.