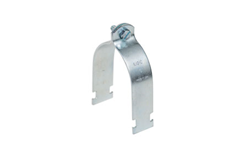 Kansas City, Missouri (PRWEB) March 12, 2014
Rigid strut clamps are used to support IPS pipe and copper tubing strut clamps are used for nominal CTS tube. Sioux Chief's strut clamps comply with MSS SP 58 – Type 59 Trapeze Hangers.
Strut clamps have been added to Sioux Chief's catalog as part of the continuing effort to expand offerings of residential and commercial hangers and pipe supports. More information, including spec sheets can be found on the Sioux Chief website.
Sioux Chief strut clamps are a domestic product and priced competitively.
More About Sioux Chief:
Since 1957, Sioux Chief has manufactured innovative plumbing products. It is a leader in providing rough plumbing solutions for residential, commercial, industrial and government applications. Sioux Chief's comprehensive product line is comprised of three core groups: Supply, Drainage and Support. Sioux Chief products are sold to qualified wholesale distributors and retailers worldwide. The company is headquartered in Peculiar, Missouri — just outside of Kansas City. For more information, please call 1-800-821-3944.
Contact Information:
24110 South Peculiar Drive
Peculiar, MO 64078
1-800-821-3944