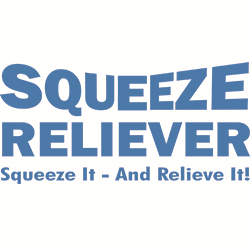 "I have a 20 year-old autistic son who loves to be squeezed because it calms him...Thank you Squeeze Reliever for something he can enjoy on his own." - L.L. of Long Island, NY
New York (PRWEB) March 13, 2014
Ideas Space Time Inc. has launched the Squeeze Reliever, http://www.squeezereliever.com. The innovative Squeeze Reliever is a portable, and affordable squeezing massager. It is beneficial for people with autism, who enjoy the calming sensation of "compression therapy." It also provides immediate pain relief for fibromyalgia sufferers, bunions, arthritic hands and feet, carpal tunnel syndrome, sore hands/feet/muscles, and tennis elbow.
The Squeeze Reliever, which is patent pending, has pressure therapy air pillows that expand and contract to provide a squeezing motion that is similar to a squeezing hand. It has adjustable pressure, speed and height adjustments, to customize to the user's unique needs/desires. It also includes a vibration feature for further comfort. "Just Squeeze It and Relieve It!"™
We received a great five-star review from customer L.L. of Long Island NY: "I have a 20 year-old autistic son who loves to be squeezed because it calms him. I bought the Squeeze Reliever hoping it would help. My son loves it! From the first try, he laughed and smiled at the pressure on his hands. He then used it for his feet and again the laughter continued. He has few words but laughter best conveys his happiness. He's used it daily since we got it. Thank you Squeeze Reliever for something he can enjoy on his own."
To see more about the Squeeze Reliever, watch the video here: http://www.youtube.com/watch?v=ja7tE7xmkE0.
Disclaimer: This product has not been approved by the U.S. FDA. It is not intended to cure, treat, diagnose or prevent any disease, symptom or condition.
Owned and created by Ideas Space Time Inc., the Squeeze Reliever is an electronic portable massager that can immediately relieve pain from bunions, arthritic hands and feet and so much more. For more information, please visit: http://www.squeezereliever.com.
Contact:
Julie Fehring
President
Ideas Space Time Inc.
(516)456-8645