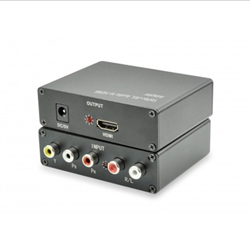 (PRWEB) March 13, 2014
Recently, Hiconn Electronics, a professional provider of quality electronics devices, has unveiled its latest assortment of YPbPr+R/L Audio to HDMI Converters. Now, all these wonderful items can be ordered at discounted prices, up to 30% off. All customers can access the price cuts before March 26, 2014.
"We are pleased to announce our new YPbPr+R/L Audio to HDMI Converters. The big discounts will allow all distributors to buy their desired products at affordable prices. In our company, customer satisfaction is the topmost priority. Therefore, all our workers are required to put emphasis on customer needs and satisfaction. Visitors who have got any questions about our products can talk to our online workers anytime," the sales manager of the company says.
Some detailed information about the company's YPbPr+R/L Audio to HDMI Converters is as follows:
--Easy to use, installs in seconds, do not need to set up, plug and play
--The synthesis of analog audio and component video signals to HDMI
--Audio input format: 2 channel LPCM
--Video input format: YPbPr
--Support YPbPr input for 480p , 576p, 720p, 1080i and 1080P
--Support HDMI output for 480p , 576p, 720p, 1080i and 1080P
In addition, Hiconn Electronics has a team of experienced specialists that are always working hard to make creative products. The company has strict regulations and quality checks, so all its devices meet the international quality standards.
About Hiconn Electronics
Hiconn Electronics (Shenzhen Hiconn Electronics Co. Ltd.) is devoted to designing and manufacturing a wide range of connection cables and customized cable assemblies, offering many HDMI cables, VGA cables, SATA cables, USB cables, 1394 cables, DVI cables, SCSI (Small Computer System Interface) and more. For more information, please visit http://www.hiconn.net/.
Contact Person: James Yin (Sales Director)
Company Name: Shenzhen Hiconn Electronics Co., Ltd.
Address: Shenghua Building., Xixiang Road., Baoan District, Shenzhen, Guangdong Province, China
Zip Code: 518102
Tel: +86-755-8109 8345
Fax:+86-755-2779 3497