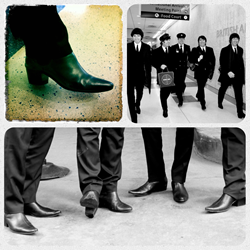 Scarborough, North Yorkshire (PRWEB UK) 13 March 2014
Retro and Mod clothing retailer, Atom Retro, has reported a dramatic increase in the demand for Chelsea Boots in the first two months of 2014. Popular amongst Mods and 1960s fashion aficionados, it's now the hottest trend for this season with Atom Retro reporting a 60-percent increase in Chelsea Boots traffic. "Chelsea Boots has always been a favourite with Atom Retro customers," Lindsey Hagston, footwear buyer at Atom Retro said. "But the increased interest in the style shows that it's a trend in mainstream fashion now too, with around 80-percent being new visitors to our site."
Connoisseurs of Chelsea Boots can revel in the vast range available at Atom Retro. From the traditional riding boots with elasticated gusset, rounded toe and slight block heel to the Dandy Mod Winklepicker style, Atom Retro offers an eclectic range for all tastes.
The Chelsea Boot first became popular as a fashion boot in the early 1960s, with the Cuban heel style worn frequently and famously by The Beatles and The Rolling Stones, to name just two.
The Beatles could be one of the reasons behind the renewed interest in the boots again, with the well-publicised Beatles Anniversary celebrations - 50 years since The Beatles took America by storm. Lindsey explains, "We've recently supplied The Cavern Club Beatles, the house band at Liverpool's legendary Cavern Club with some Chelsea boots. The stacked Cuban heel, centre seam detail and slightly pointed winklepicker toe are just the ticket for that early Beatles look and it was the style the guys chose to wear as they re-enacted the arrival of John, Paul, George and Ringo, exactly 50 years to the day."
Away from the traditional looking Chelsea boot - black, brown and tan leather - Atom Retro also report increased sales in colourful Chelsea Boots in suede and leather and new basket weave, patent and brogue styles. "We've always tried to offer a large range of Chelsea Boots to give customers something different to what they might normally find on the high street," Lindsey says. "We offer the traditional black leather and suede, but we also offer blue, red, purple - pretty much any colour you could want!" As well as styles from Ben Sherman and Merc, Atom Retro also offer a range of Madcap England Chelsea Boots and exclusive ranges from Delicious Junction, both of which Atom Retro buyers contribute to designing.
Lindsey says, "The great thing about the Chelsea Boots style is that they can often be paired with both smart and casual attire which in times of austerity is of major appeal to the consumer. A smart pair of black Chelsea Boots goes great with denim and suiting alike. There's also something of a Rock and Roll edge about certain styles, especially the Cuban Heel boots that evoke images of 1960s culture and everybody loves a rebel!"
Hardy Amies, English fashion designer and founder of the luxury fashion label, once said of Chelsea Boots, "When a new style is tried because the customer thinks they're fashionable and then finds in wearing that they are practical, you can be pretty sure that you're going to get an established trend." (Source ABC of Mens Fashion, 1964)
About Atom Retro:
Atom Retro (http://www.atomretro.com) is a UK leading clothing retailer, boasting the largest range of authentic, high quality retro and mod clothing for men and women online. The Atom Retro range is inspired by the Carnaby Street boutiques of the sixties and includes an ever growing list of iconic brands and original, independent designers. Browse Atom Retro's extensive range of retro and mod clothing on the Atom Retro website.