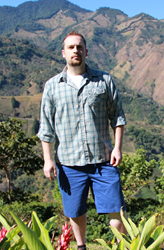 This certification testifies to the drive and professionalism that Brandon brings to Crimson Cup. Typical for Brandon, he earned a perfect score of 100 percent. We're extremely proud of him! - Greg Ubert
Columbus, Ohio (PRWEB) March 13, 2014
Brandon Bir, a coffee and training specialist with Crimson Cup Coffee & Tea, recently earned Level 1 Certification from the Barista Guild of America. Nationally recognized, Barista Guild Certification is based on industry standards and best practices of the Specialty Coffee Association of America.
"This certification testifies to the drive and professionalism that Brandon brings to Crimson Cup," said Greg Ubert, founder and president of the Ohio coffee roaster and coffee franchise alternative. "Typical for Brandon, he earned a perfect score of 100 percent. We're extremely proud of him!"
Bir is a key member of the roaster's coffee-buying team. He takes several coffee-sourcing trips each year and runs the cupping lab at the company's Columbus, Ohio headquarters.
"Pursuing BGA certification reinforces the skills I use every day at Crimson Cup," Bir said. "I've already begun studying for Level 2."
He also teaches independent coffee house owners how to run a successful coffee business through the company's Seven Steps to Success franchise alternative program. Based on Ubert's book, "Seven Steps to Success in the Specialty Coffee Industry," the program teaches entrepreneurs everything they need to open a coffee shop, including comprehensive training for owner and staff.
About Crimson Cup Coffee & Tea
Since 1991, Crimson Cup Coffee & Tea has hand-roasted specialty coffee in Columbus, Ohio and taught independent business owners how to be successful through its coffee shop franchise alternative program. Sustainably sourced Crimson Cup coffee is available through a network of more than 350 independent coffee houses, grocers, college and universities, restaurants and food service operations across 28 states, as well as the company's own Crimson Cup Coffee House in the Columbus suburb of Clintonville. For more information, visit crimsoncup.com.