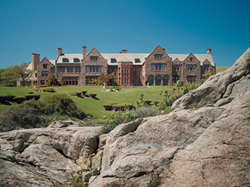 Miss Duke chose great pieces that were well made. Whether it was a sequined pantsuit or a pair of embellished jeans, the items had classic elements of design and timeless structure.
Newport, RI (PRWEB) March 13, 2014
With a great eye for classic cut and design and a bold attitude toward fashion, Doris Duke was a designer's ideal client. Miss Duke - heiress, philanthropist and art collector - carefully created a fashion collection comprised of both couture and off-the-rack items from a variety of designers. During No Rules: The Personal Style of Doris Duke, the annual exhibit at Rough Point, Miss Duke's Newport home, visitors are invited to explore a portion of Miss Duke's clothing collection ranging from the understated to the show-stopping.
Doris Duke had an appreciation for art and design, as evidenced by her art collections at Rough Point. Her love of travel began as a child and continued throughout her life. Just as her homes were carefully decorated with art she purchased during her travels, so were her closets. Many of Miss Duke's trips were to lesser known destinations, where she learned about local people and customs. "During her world travels, Miss Duke immersed herself in art, culture and fashion," said Kristen Costa, exhibit curator. Miss Duke made several trips to the Middle East and Africa. She was also a frequent visitor to Thailand, where she was a patron of tailors including Star of Siam, which appears in the 2014 exhibit. Also in the exhibit is a pair of Taj of India shoes, which were made famous after appearing on the television show "I Dream of Jeannie."
While Miss Duke did not follow trends, many of the items in her wardrobe are still relevant and stylish in 2014. She chose clothing for luxurious fabric, impeccable details or, at times, for a sense of whimsy and fun. "She dressed as discriminately as she purchased items for her home, and made most purchases on her own. Miss Duke chose great pieces that were well made. Whether it was a sequined pantsuit or a pair of embellished jeans, the items had classic elements of design and timeless structure. She often chose items which were fun without being totally outrageous, making them relevant today," said Costa. Items on display during the annual exhibit include a leopard print sequin Valentino skirt, a denim and leather snakeskin print Givenchy jacket, and a pair of studded jeans by Leslie Hamel, who designed a hand painted pair of cutoffs for Madonna.
Miss Duke's impeccable taste landed her at number four on a best dressed list compiled by Parisian dressmakers in 1940. She was also chosen by fashion designers as the society winner on a best dressed list in 1947. Perhaps recognizing the parallel between art and fashion, Miss Duke donated designer items to the Fashion Institute of Technology and the Metropolitan Museum of Art. "Women in New York society were approached to donate some of their collections to these museums," said Costa. "Miss Duke understood the importance of the pieces in her closet, including items by Balenciaga and Yves Saint Laurent."
No Rules: The Personal Style of Doris Duke will be on exhibit in the galleries at Rough Point April 10 through November 9, 2014. Guided house tours, which last approximately 75 minutes and include the exhibit, cost $25. Children 12 and younger are admitted for free. For the first time since Rough Point opened to the public, the house museum will be open on Sundays. Tours will now be offered from 10:00 a.m.-2:00 p.m., Thursday-Sunday, April 10 – May 11. From May 13 to November 9, tours are offered 10:00 a.m.-3:45 p.m., Tuesday-Sunday. In addition, the galleries will be open during a series of special events, as well as during educational lectures and programming. For more information or to buy tickets, visit http://www.NewportRestoration.org or call (401) 847-8344.
Rough Point was bequeathed to the Newport Restoration Foundation by Doris Duke upon her death in 1993, complete with all of its contents. It was her express wish that it be opened to the public as a house museum. Founded by Miss Duke in 1968, the Newport Restoration Foundation, a non-profit institution, was formed with the express purpose of preserving, interpreting, and maintaining landscape and objects reflecting Aquidneck Island's 18th- and 19th-century architectural culture.