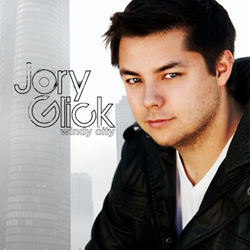 (PRWEB) March 12, 2014
Up and coming singer-songwriter and California native Jory Glick announces the release of his debut album, "Windy City." Marcus Brown, one of the musical forces behind Madonna, Seal, and Ozzy Osbourne, produced the release.
Glick first made his mark on the Los Angeles music scene performing around the city while still in high school. His early performances and recordings garnered him favorable reviews from many, including DRUM! Magazine, which said of Glick's first demo:
"…This 16-year-old Los Angeles–based drummer complements the other instruments like white on rice and sneaks his accents so insidiously into the mix that you're feeling it subconsciously rather than noticing that his fills stop on a dime."
Since then, Glick has gone on to win further acclaim for his musical talents. Music Connection Magazine named Glick one of the "Top 100 Unsigned Artists" two years running while The Hollywood Music in Media Awards honored him with a nomination for "Best Pop Song" for Out of Control, one of a number of tracks he is currently recording for his follow-up album. Glick has also been featured on the hit Showtime TV series, Californication, performing as a teen bandmate in multiple episodes.
Glick has received endorsements from Soultone Cymbals and Kickport International, and has performed as a Voyage-Air Guitar acoustic artist at NAMM.
"Like writing a song, I see my college years as a process for developing and fine tuning who I am and what I do. I want to be a better singer and musician through performance, composition and production," said Glick.
He continues, "I'm really excited about the release of "Windy City." All of the hours spent in the studio writing, recording and collaborating with my producer, Marcus Brown, have lead up an evolution of my music that I am proud to share! 'Windy City' the song, which the EP is named after, is about having to leave behind the life that you know in order to discover new opportunities."
To preview "Windy City," visit iTunes.