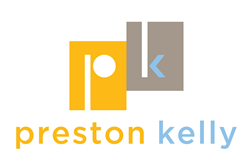 'Great clients buy great work,' said Preston Kelly EVP/creative director Chris Preston. 'Minneapolis is a very tough show, and we were happy to see our work and our clients represented.'
Minneapolis, MN (PRWEB) March 13, 2014
Preston Kelly received four "pins" Friday night at The Show, an annual awards competition sponsored by The Advertising Federation of Minnesota (Ad Fed), a professional trade association serving the local advertising community.
Preston Kelly and its clients were honored in the following categories:

"Great clients buy great work," said Preston Kelly EVP/creative director Chris Preston. "Minneapolis is a very tough show, and we were happy to see our work and our clients represented."
About Preston Kelly
Preston Kelly is a full-service, independent marketing agency in Minneapolis that creates Iconic Ideas for its clients across multiple categories. Preston Kelly was recently named as one of the top 25 Most Effective Independent Advertising Agencies in America by Effie Worldwide. Preston Kelly is a past recipient of Advertising Age's Midwest Small Agency of the Year and Radio Mercury Awards' Integrated Campaign of the Year. Preston Kelly is a member of Worldwide Partners, the world's largest network of independent marketing and communications firms. To learn more about Preston Kelly, visit prestonkelly.com.