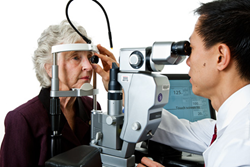 "Celebrating our first Save Your Vision month is really exciting. We are looking forward to connecting with our community and ensuring their vision health is a top priority," Dr. RoberGordon, Associate Dean of Clinical Affairs for WesternU Eye Care Center
Pomona, CA (PRWEB) March 20, 2014
The Patient Care Center at Western University of Health Sciences in Pomona, Calif. is celebrating "Save Your Vision Month" throughout March with prize drawings, vision health information and a special Q&A session on vision and eye care hosted on Facebook with the Eye Care Centers Dr. McAllister.
"Save Your Vision Month is all about promoting vision health and regular eye exams. With many of us spending hours in front of screens of various types (computers, phones video games, etc.), it is more important than ever to have your eyes examined regularly. Poor vision can cause headaches and make many daily tasks difficult. Eye examinations may help to prevent vision loss, and can greatly improve your day to day quality of life," stated Dr. Robert Gordon, Associate Dean of Clinical Affairs for WesternU Eye Care Center. "Celebrating our first Save Your Vision month is really exciting. We are looking forward to connecting with our community and ensuring their vision health is a top priority," continued Dr. Gordon.
To raise awareness throughout March, the Patient Care Center will give away five Save Your Vision Month prize packs. Contestants are automatically entered into the giveaway by "liking" WesternU Patient Care Center's Facebook page. Each prize pack is filled with contents from the Eye Care Center valued at more than $50.
Followers on Facebook will also have the ability to participate in a Q&A with WesternU Eye Care Center Chief of Primary Care Service Bennett McAllister from 11 a.m. to noon March 27, 2014 on the WesternU Patient Care Center Facebook page. Dr. McAllister will answer any questions related to eye care on March 27, 2014 at 11am (pacific). He has a clinical background that ranges from general private practice and contact lenses to low vision care and surgical pre and post operations for cataracts and laser surgery.
For more information about WesternU Patient Care Center or Save Your Vision Month please visit: https://www.facebook.com/WesternUPCC/app_169839943222567
About WesternU Patient Care Center:
Located on the Western University of Health Sciences campus in Pomona, California, the WesternU Patient Care Center's mission is to train healthcare professionals to provide comprehensive, compassionate, and caring service while using sound science in their practice. WesternU Patient Care Center is home to eight specialty centers including; Dental, Eye, Foot & Ankle, General Medical, Pharmacy, Travel Health, Limb Preservation Center, and Western Diabetes Institute. The Patient Care Center is a healthcare facility where the best in collaborative healthcare services is offered while putting Western University's core value of humanism, science and caring into practice every day. For more information please visit: westernupcc.com