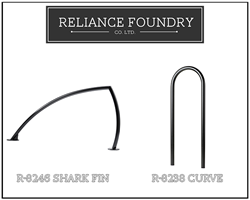 These bike racks are priced to clear and the savings will be quite substantial.
Vancouver, BC (PRWEB) March 13, 2014
Reliance Foundry Co. Ltd., North America's premier supplier of bollards, bike racks, and custom castings, announced today that it will be dropping the prices of two of its infrequently-chosen commercial bike rack models. The price reduction effort comes as part of an initiative to increase the availability of the most popular selling models and to reduce the stock of lesser-used models. The price of two standard designs, in both standard and stainless steel, will be discounted and made available on Reliance Foundry's bike rack clearance page. The model R-8238 and R-8246 will all be offered at a discounted price, presenting installers with a great opportunity for projects that may be restricted by a tight budget. These racks will only be available while supplies last; once the remaining stock has been depleted, the models will be discontinued. Both models of these discontinued bike racks feature versatile designs that can work well with most architectural approaches and they are now offered at rock-bottom prices.
"If you're not picky about style, this is a great opportunity to source out some of the cheapest solutions for commercial bike parking," said Len Cranmore, Product Manager at Reliance Foundry. "Both of these newly-discounted bike racks feature a pretty basic style that can look good anywhere."
All of Reliance Foundry's discounted bike racks offer a superior level of durability but, due to their limited sales, they will be discontinued from the standard bike rack catalogue to allow for the development of new, further-reaching models. The model R-8238 features a basic design that holds two bikes and it is shaped in the form of an elongated and inverted "U". The model R-8246 bike rack features a design that is unique to Reliance Foundry. It has often been labelled the "Shark-Fin" bike rack because of how it resembles a fin that protrudes from the concrete surface on which it is installed. Both of these models are available in standard and stainless steel and both can be either surface-mounted or embedded in new concrete. They are available in limited supply and, once the remaining stock has been depleted, both will be discontinued. These discounted bike racks offer the same design quality that Reliance Foundry is known for but they will now be offered at lower-than-ever-before prices.
"The reduced prices on these bike racks present a great opportunity to save on a secure bike parking installation, " says Reliance Foundry's Vice President of Sales and Marketing, Brad Done. " These bike racks are priced to clear and the savings will be quite substantial."
Reliance Foundry's bike racks are available in several innovative styles and they feature a durable construction. Their innovative designs provide an exceptional level of security and aesthetics that bring out the best in every streetscape. Models are available in both standard and stainless steel and Reliance Foundry offers them at prices that are among the most competitive in the industry. Reliance Foundry's bike racks are highly durable and will stand up to the demands of typical North American streetscapes. They can be embedded in new concrete surfaces or surface-mounted on existing ones and all the necessary installation hardware is shipped with every order. View all models of discounted bike racks to find the most economical solution for your site.