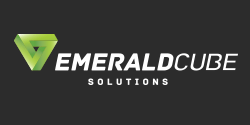 "We plan to share insightful industry information along with tips on maximizing the JD Edwards EnterpriseOne user experience." - Todd Chromzak, Partner, ECS
Atlanta, GA (PRWEB) March 18, 2014
Oracle Gold Partner, EmeraldCube Solutions, announced today their participation in the upcoming Collaborate 14 conference to be held in Las Vegas, NV, April 7 – April 11. Collaborate 14 is a technology and applications forum for the Oracle community. EmeraldCube Solutions is proud to not only be a sponsor of the event, but also to be a participant in the exhibitor showcase as well as a presenter of four educational sessions. "Collaborate14 is an incredible event which brings together the Oracle community and specifically the JD Edwards clients we have the pleasure of supporting on a daily basis," said Todd Chromzak, Partner of EmeraldCube Solutions. "We will be leveraging this event to showcase the products and solutions we offer, while providing insight from our team of experts in our educational sessions."
EmeraldCube Solutions, established by Marcelo Tamassia, Craig Kelly and Todd Chromzak, is best known for its JD Edwards technical capabilities, Configurable Networking Computing (CNC) Services, and Managed Services. EmeraldCube Solutions product EmeraldPrism allows customers to track the pulse of their EnterpriseOne technology environment by proactively identifying issues and changes that affect stability and uptime. Their EmeraldVision product is the only true SaaS based Business Intelligence (BI) solution built specifically for JD Edwards customers.
Throughout the week, EmeraldCube Solutions will be at the exhibitor showcase in booth #418. Additionally, they will be hosting four educational sessions. The schedule for these sessions can be found here: http://www.emerald-cube.com/collaborate14/.
"We plan to share with Collaborate 14 attendees some very insightful industry information along with tips on maximizing their JD Edwards EnterpriseOne user experiences," said Chromzak. "In addition, we will be at the exhibitor showcase to meet with clients and members of the JD Edwards community."
For more information regarding EmeraldCube Solutions and their participation at Collaborate 14, please visit http://www.emerald-cube.com.
About EmeraldCube Solutions
EmeraldCube Solutions provides JD Edwards customers with superior technical and analytical solutions to manage their JD Edwards business technology. With over 50 years of combined JD Edwards experience, EmeraldCube is an Oracle Gold Partner that delivers Configurable Network Computing (CNC), Managed Services, and SaaS based Business Intelligence (BI) solutions.
###