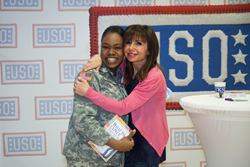 "It is such an honor for USO Europe to host a program like 'Special Delivery,' because for many of these women this may be their only baby shower..." -USO Europe Regional Vice President Walt Murren
Arlington, VA (PRWEB) March 13, 2014
Whether you're having your first child or your third, the experience is unique, exciting and a cause for celebration – and for many military moms-to-be it can also be a time to miss family and loved ones. The time-honored tradition of celebrating the birth of a child with a baby shower is one of the moments many of our expectant military moms miss out on, especially when they are living overseas. To help fill that void, the USO, in partnership with the What to Expect Foundation and author Heidi Murkoff, is bringing "Special Delivery," a very special baby shower to military moms in Landstuhl, Germany.
"Motherhood is the ultimate sisterhood, "said best-selling author Heidi Murkoff. "For military moms-to-be, far from their immediate family and friends, these baby showers are more than gift bags and cake. They are about connecting and sharing a common bond and creating friendships with women experiencing the same mix of emotions during one of the most important milestones of their life."
Over a three-day period, which kicked off yesterday, the USO and the What to Expect Foundation will host three baby showers for hundreds of new and expecting military moms in Germany. Each baby shower features food, gifts and games as well as a Q&A session and book signing with "What to Expect When You're Expecting" author Heidi Murkoff. As part of the Q&A session, Murkoff will engage with expectant moms, discuss topics of interest, spark conversation among participants and help to create new bonds for the military moms.
"Military families sacrifice countless everyday moments in service to our country," said USO Europe Regional Vice President Walt Murren. "It is such an honor for USO Europe to host a program like 'Special Delivery,' because for many of these women this may be their only baby shower. We want to make sure its an experience they won't soon forget."
Since its founding in 1997, the What to Expect Foundation has had one mission: to educate and empower moms in need so they can expect healthier pregnancies, safer deliveries and healthier, happier babies. Co-founders Heidi and Erik Murkoff have taken that mission one step further – partnering with the USO to create the "Special Delivery" program and supporting the needs of military moms. Coming up, the USO and the What to Expect Foundation will host "Special Delivery" military showers at:
Fort Riley, Kansas – April 9, 2014
Fort Hood, Texas – May 9, 2014
Okinawa, Japan – June 16 – June 18, 2014
Fort Drum, New York – August 22, 2014
Fort Bliss, Texas – September 30 , 2014
Click here to view photos from the event. For more information about the USO and to find out how you can show your support, visit us online at http://www.uso.org. A complete list of 2014 USO Warrior and Family Care Programs and Services can be found online at http://www.uso.org/warriorandfamilycare/.
About the USO
The USO lifts the spirits of America's troops and their families millions of times each year at hundreds of places worldwide. We provide a touch of home through centers at airports and military bases in the U.S. and abroad, top quality entertainment and innovative programs and services. We also provide critical support to those who need us most, including forward-deployed troops, military families, wounded warriors and families of the fallen. The USO is a private, non-profit organization, not a government agency. Our programs and services are made possible by the American people, support of our corporate partners and the dedication of our volunteers and staff.
About What to Expect Foundation
The What To Expect books, that all began with the iconic What To Expect When You're Expecting have sold more than 45 million copies and are published in over 30 languages.
Established in 1997, the What To Expect Foundation is dedicated to helping underserved families and empowering moms in need so that they can expect healthier pregnancies, safer deliveries and healthier, happier babies.
In 2005 the What To Expect brand expanded online with Whattoexpect.com - the interactive companion to the What To Expect books and home to a vibrant, vast yet close-knit community of over 4.5 million parents.