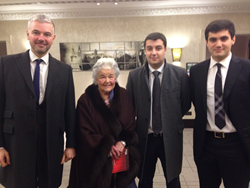 London, UK (PRWEB UK) 14 March 2014
The European Azerbaijan Society (TEAS) was pleased to sponsor the Macmillan Parliamentary Palace of Varieties event at the Park Lane Hotel in London on 12 March. This major fundraiser for Macmillan Cancer Support – which attracted more than 400 people – raised an estimated £150,000 to ensure that those living with cancer do not face it alone and unaided.
This annual event gives an opportunity for members of both the House of Lords and Commons to demonstrate their musical or comic abilities. Highlights included former children's television presenter Baroness Benjamin singing soul music and the MP4 parliamentary rock band, comprising four MPs – Pete Wishart (Scottish National Party, keyboards), Ian Cawsey (Labour, bass guitar and vocals), Kevin Brennan (Labour, lead guitar) and Greg Knight (Conservative, drums) performing four songs with political overtones – 'Keep On Running', 'I Saw Her Standing There', 'I Should Have Known Better' and 'Don't Look Back in Anger'.
Lord Dobbs, author of the political thriller 'House of Cards', performed Noël Coward's 'Mad Dogs and Englishmen'. Lord Colywn, Joint Chair, All-Party Parliamentary Jazz Group, played the skiffle classic 'Freight Train' and the comedy song 'Nuts', made famous by the late George Melly. Baroness Knight recited her 'Political Tales' and joined forces with Stephen O'Brien MP to put a new spin on the Edwardian ballad 'When You and I Were Young, Maggie'.
Attendees included Mark Menzies MP, Lord Foulkes of Cumnock, former Minister of State for Scotland, and Lord Kilclooney, all of whom have visited Azerbaijan.
TEAS' support of this event demonstrated its dedication to philanthropic causes, both in the UK and Azerbaijan.