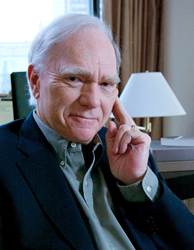 New York City, NY (PRWEB) March 14, 2014
Robert McKee teaches the substance, structure, style, and principles of story. He believes writing can be taught. With his method, with talent, and with hard work, writers gain insight into the truths they have to share and learn how to share them through story. His past students– including Peter Jackson, William Goldman, the entire writing staff of Pixar, Paul Haggis, Jane Campion, Akiva Goldsman, Joan Rivers, Kirk Douglas, Meg Ryan, John Cleese, Drew Carey, Russell Brand, and over 100,000 others– tend to agree.
From April 9-13 Robert McKee's GENRE Festival will be rolling into New York City for its only 2014 North American run. Taught by highly esteemed story-telling lecturer Robert McKee, this event is sure to improve story writing, regardless of the writer's chosen medium (screen, page, stage, print, etc.).
Centered on Mr. McKee's clear understanding of the Golden Age of television, the week focuses first on shaping your story in the genre of your choosing, then on how to develop your content to fit the new industry standard of the 100-hour television series. The week is scheduled as follows:
April 9- Thriller Day: The Art of Suspense
April 10- Comedy Day: The Angry Art
April 11- Love Story Day: The Art of the Heart
April 12- Action Day: The Art of Excitement
April 13- TV Day: The Art of the Future
The GENRE Festival has become an industry standard for many publishing and production houses. Attendees hail from companies as diverse as Pixar, Ubisoft, or Harlequin Books. Many past graduates have gone on to work on films such as 2014's The Lego Movie and to write great works such as Captain Phillips and The Wolf of Wall Street, both of which were nominated in 2013 for Academy Awards and written by Robert McKee's former students.
Register today to experience story like never before, and to begin your career as a storyteller. With dedication, talent, and the tools you will learn during the GENRE Festival, you too could be a successful writer.