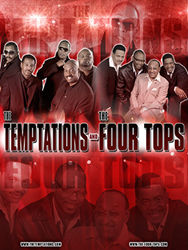 "We are thrilled to welcome back two of the biggest acts in American music history to the DPAC stage this fall." Emily McLoughlin, Marketing Director for Concerts at DPAC.
Durham, NC (PRWEB) March 15, 2014
Rock and Roll Hall of Famers The Temptations and The Four Tops return to DPAC, Durham Performing Arts Center, on September 26, 2014. Their last two performances were sold out, and Triangle fans can expect this show to follow suit.
Tickets go on sale Friday, March 21 at 10 a.m.:

Online at DPACnc.com
DPAC Ticket Center: 919.680.2787, 123 Vivian Street, Durham, NC
Ticketmaster.com / Ticketmaster Charge by phone at 800.745.3000
Friends of DPAC members may place their orders on March 19. Joining Friends of DPAC is free, and you can register at http://www.dpacnc.com/fod.
"We are thrilled to welcome back two of the biggest acts in American music history to the DPAC stage this fall. Fans love hearing their all-time favorite songs performed live, and DPAC provides a perfectly intimate, indoor setting for audiences of all ages to enjoy these timeless classics," said Emily McLoughlin, Marketing Director for Concerts at DPAC.
The Temptations
For more than forty years, The Temptations have prospered, propelling popular music with a series of smash hits and sold-out performances throughout the world.The history of the Temptations is the history of contemporary American pop. An essential component of the original Motown machine, that amazing engine invented by Berry Gordy, the Temps began their musical life in Detroit in the early sixties. It wasn't until 1964, however, that the Smokey Robinson written-and-produced "The Way You Do the Things You Do" turned the guys into stars.
An avalanche of hits followed, many of which ("My Girl," for instance) have attained immortality. "Papa Was a Rollin' Stone," "Since I Lost My Baby," "Get Ready," "Ain't Too Proud to Beg," "Just My Imagination (Running Away With Me)," "I Wish It Would Rain" - the hits kept coming.
The Four Tops
The Four Tops were constantly producing songs about love, happiness and romantic heartbreak in the quintessential Detroit sound/Motown tradition. No other popular quartet associated with the American 60s sound has succeeded in remaining as fresh, joyful, lively and timely. The Four Tops have created a special magic that continues to delight audiences of all ages and nationalities, and their reign as the Grand Gentleman of Rock and Roll is far from over!
The Four Tops' list of top 10 hits, many of them gold records and No. 1 chart toppers, include "Baby, I Need Your Loving," "I Can't Help Myself (Sugar Pie Honey Bunch)," "It's the Same Old Song," "Reach Out I'll Be There," "Bernadette," "Walk Away, Renee," "Standing in the Shadows of Love," "Shake Me, Wake Me", just to name a few. They have recorded 35 albums during their illustrious career - 21 of them for Motown which reaffirms their power, punch, and enormous appeal.
#####
ABOUT DPAC:
Since its opening in 2008, DPAC, Durham Performing Arts Center, has become the center for live entertainment in the Triangle. Recognized for its contemporary design, DPAC features 2,700 seats, intimate sightlines and state-of-the art sound and video. Listed four times in the top 10 in Pollstar magazine's annual worldwide theater attendance rankings, DPAC is currently the #4 ranked theater in the U.S.
What is up next at DPAC? After two previous sold-out concerts,THE MOODY BLUES (March 18), Broadway's greatest hits sung by TEN TENORS (March 20), one of the country's premier comedians, JAY LENO (March 28).
For more information please go to http://www.DPACnc.com.