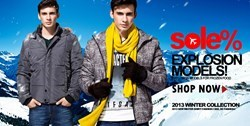 (PRWEB) March 15, 2014
Recently, Skmen.com, a famous online store of fashionable clothes, has announced its new girls' sweater dress collection. It is worthy to mention that the company will release more trendy apparels in the coming days. It hopes to provide worldwide clients with perfect clothing solutions.
As is known to all, the company is popular for its quality clothes at affordable prices. Now, all its brand new girls' sweater outfits are offered at discounted prices, up to 31% off. Its other fresh items include spring dresses, midi bodycon dresses, sexy casual outfits and so on. They are available in various amazing styles.
The CEO of the company says, "We are proud to release our fresh attires. They are provided in many colors and sizes. What's more, all of them are impressive and inexpensive at the same time. I hope worldwide ladies like our top quality outfits. Please note that the special offer will come to an end on March 27. Those who are interested in our cheap sweater dresses should visit our online store before the deadline."
Furthermore, the company has won a very good reputation in the current market. It has thousands of happy customers at home and abroad.
About Skmen.com
Skmen.com, a China-based company founded in 2009, is one of the leading suppliers of men's and women's high quality clothes. It has more than 5000 customers from every part of the world; it hopes to help worldwide stylish ladies and gentlemen. For more detailed information about the company and its wonderful items, readers can visit http://www.skmen.com/product-sweater-dresses-003004008.aspx.