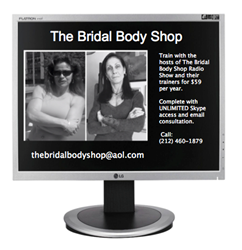 Our personal trainers will create a fitness and diet plan designed specifically for the individual's needs.
New York, NY (PRWEB) March 15, 2014
Physical Advantage--the sports and performing arts massage center where athletes from the New York Islanders to the Giants and stars of Broadway and film are regularly treated--announces a new service offering: "The Bridal Body Shop" (BBS) now with VIRTUAL TRAINING. For $59.00 per year, subscribers receive unlimited Skype sessions, personalized email support, and access to a library of over 900 workout videos.
Because preparation to detail is necessary for the most important day of a woman's life, Laurie Towers, CEO and founder of Physical Advantage, extends her knowledge of fitness to the bridal world. The firm goes one step further, offering brides the option of taking the BBS workout in the convenience of their own homes. The program is tailor made to suit the individual needs of the client and includes nutritional counseling in addition to a specifically designed exercise program. The sessions range from kettle bells and free weights to floor work and cardiovascular activity. Duration and frequency is flexible to suit the client's schedule. And now with "Virtual Training," the BBS offers 24/7 customized programs, along with support via Skype sessions and email, plus access to nearly 1,000 fitness videos. .
"Our mission is to get brides in the best possible shape to embark on their new life—without drugs or plastic surgery," says Towers. "Our personal trainers will create a fitness and diet plan designed specifically for the individual's needs. With the 'Bridal Body Shop,' it couldn't be easier and safer for the bride-to-be to get in the shape she's always wanted to be in."
The BBS is also available to the full bridal party, as well as to the public at large. The company employs both male and female trainers for everyone's comfort and convenience.
Perennially named to New York Magazine's "Best of" issue and featured on Fox 5 Television, and LA radio, Physical Advantage has established itself as Manhattan's premiere "serious" rehabilitative massage center. Professional athletes, marathoners and triathletes, dancers, actors, and opera singers regularly visit Physical Advantage to get the kinks out and help their bodies heal, recover and renew. All Physical Advantage therapists and personal trainers are licensed and certified, and are skilled at providing treatments designed for both short-term pain relief and long-term results.
For more information on "The Bridal Body Shop" and other services, visit http://www.physical-knead.com or call 212-460-1879. Tune in to The Bridal Body Shop radio show Wednesdays 1pm – 2pm and Saturdays 3pm – 4pm and archived on the web. http://www.blogtalkradio.com/the-bridal-body-shop