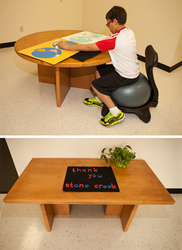 Our expansion allows us to provide a great space for therapy and increase our enrollment.
Phoenix, AZ (PRWEB) March 18, 2014
Seeing a great opportunity to give back to the community, Stone Creek Furniture owner, Ron Jones, donated three large group workstations and eight individual student desks to Pathways School and Evaluation Center, a State Approved private day school located in Mesa, Arizona. The donation will help with the expansion of Pathways, allowing for the accommodation of more children, better safety, and ease of learning. Pathways will be able to cut costs of buying new seating and put the funds saved toward further education for the children enrolled at the school.
All desks and workstations donated are constructed of cherry wood and designed for comfort and durability. Precise detail and thought went into creating the furniture by rounding the corners and edges for added child safety. By using quality hardwood, the desks will allow for child activities for years to come.
"We are so grateful to Stone Creek for helping us with the furniture for our expansion. We are now able to have our students in appropriately sized tables and desks. Our expansion allows us to provide a great space for therapy and increase our enrollment. We couldn't have done it without the help from many generous people, and Stone Creek and Netwirks are at the top of the list," says Pathways Director, Debra DeLabio.
Pathways School will be hosting an Open House Saturday, March 22 from 11 am – 1:30 pm for new candidates and their parents. Pathways staff will be offering information about their program and ESA, which are Empowerment Scholarships, and a tour of the facility to parents. For the children, a craft table will be set up, along with a bounce house, and a few games to play. There will be snacks provided as well. For more information about Pathways or their Open House, visit http://www.pathwaysschool.org or call (480) 259-7788.
About Pathways
Pathways mission is to educate children with learning differences, attention deficits, and developmental delays to achieve their greatest potential. We strive to instill confidence and empower students to succeed by developing an intrinsic desire to learn. We have developed a program and embrace a philosophy in which the needs of children come first. All children want to learn and do well. Our responsibility as educators is to discover how to motivate each student to learn and develop a plan that best meets the individual needs of our students.
About Stone Creek Furniture
Stone Creek Furniture is Arizona's largest furniture manufacturer, marketing furniture and kitchen cabinets directly to the public at true factory direct prices. Known for their quality hardwood construction, they produce furniture and cabinetry using only the best selection of quality hardwoods. Standard features include all hardwood construction, interlocking drawer box construction with full extension ball bearing glides and an extensive selection of 35 fine finish colors. Stone Creek offers more options in customized home offices, home theatres, kitchen cabinets, and bedrooms with the flexibility to modify sizes to exact wall dimensions.