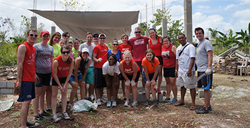 Lynchburg, VA (PRWEB) March 14, 2014
Liberty University students have been using their spring break this week (March 10-14) to minister to others across the U.S. and abroad. Liberty's Center for Global Engagement sent nine teams on trips all across the globe, including Japan, Thailand, the Philippines, Ghana, Bosnia, Spain, Israel, and undisclosed locations in the Pacific Rim and Arab World. In the U.S., Department of Ministry Teams are serving at churches and schools, and the Center for Ministry Training has teams engaged in Las Vegas, Baltimore, Washington, D.C., and Boston. Countless more Liberty students have been working with groups from their local churches and other mission agencies and charitable organizations as they devote their time to meeting the needs of others.
"Liberty's Christian mission has made us a truly global institution," said Johnnie Moore, senior vice president for communications. "So this spring break — as has happened for generations — we had hundreds of students all over the planet serving. What they found when they arrived was that Liberty's reputation had preceded them. People everywhere think of our university as an institution that is making the world a better place. This makes us all very proud."
GLOBAL TEAMS SERVE ABROAD
Students on global teams are impacting foreign countries in a number of ways, including community care and relationship building, health care and first aid, literacy classes and teaching English, as well as food distribution, disaster relief, and school ministry.
Moore visited students serving in Spain as they held English camps for North African immigrants. He said the camp had double the amount of children they were expecting, largely because of the tremendous work Liberty's team did last year to restore a dilapidated community center.
When Typhoon Haiyan devastated the Philippines on Nov. 8, Liberty was already planning to send a team to the island nation over spring break. News of the disaster quickly changed their focus to disaster relief. Students have been working in some of the areas most affected by the storm, building relationships as they cleaned and painted.
In Bosnia, Liberty's global team has been teaching English in public schools, working with health fairs, and sharing God's love in the war-torn country. Liberty's Student Government Association, which hosted a fundraising event earlier this month, has been involved in supporting the ministry there.
Students on a global study tour to Israel, which Moore led along with Dr. Ben Gutierrez, administrative dean for undergraduate programs, volunteered time on their trip to serve in a home for disabled children.
STUDENTS GAIN PRACTICAL MINISTRY EXPERIENCE ON 'EXPOSURE TRIPS'
Liberty's Center for Ministry Training regularly offers exposure trips to give students hands-on, practical experience for day-to-day ministry. One of the center's goals is to train students to live missionally wherever they are, regardless of vocation, to impact the world for Christ.
The Las Vegas team has been getting a ground-floor look at church planting as they network on college campuses and host community events.
In Boston, students have been working with church planting and college ministry as they interact with people from different cultures.
Students on the Baltimore team have been working with the homeless and victims of sex trafficking. They have helped a local church and a safe house with cleaning and other maintenance needs.
In Washington, D.C., a team has been ministering on Capitol Hill. On Monday, while networking for an event put on by the Center for Christian Statesmanship, Liberty students went door-to-door through congressional offices and met with hundreds of individuals from all across the country. They toured the Capitol building, joined in congressional Bible studies, and prayed with fellow believers on Capitol Hill.
"Overall, the theme of our trip has been 'Hope for America'," seminary student Chris Underwood said of the Washington, D.C. trip for which he was a team leader. "Not the manufactured hope that politicians sell, but a true hope for America because of our savior Jesus Christ, and the many incredible Christians we have met who are working tirelessly to change the destiny of our nation."
RACE TO 2025
Liberty students are also taking part in a Race to 2025 event with Wycliffe Bible Translators. During a Convocation message last fall, Wycliffe President Bob Creson explained that the organization is using advancements in technology to produce the Bible in every language by 2025.
The event is a two-day race in Tennessee this weekend designed to raise funds and awareness for the Bible translating campaign. Participants will take on a variety of challenges, including canoeing, rock climbing, biking, and hiking. Liberty's four-member team has already raised about $2,000.
More short-term service trips are planned this summer through the Center for Global Engagement. Read about Liberty's involvement globally in the current issue of the Liberty Journal.
About Liberty University
Liberty University, founded in 1971, is the largest private, nonprofit university in the nation, the largest university in Virginia, and the largest Christian university in the world. Located near the Blue Ridge Mountains on more than 7,000 acres in Lynchburg, Va., Liberty offers more than 350 unique programs of study from the associate to the doctoral level. More than 180 programs are offered online. Liberty's mission is to train Champions for Christ with the values, knowledge, and skills essential to impact tomorrow's world.