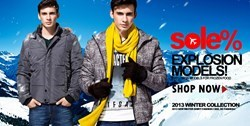 (PRWEB) March 16, 2014
Lately, Skmen.com, China's well-known clothing manufacturer and retailer, has released its new range of fancy dresses for women. The company's online workers have updated its website with these brand new attires. In addition, all of the new outfits are now offered at discounted prices (up to 30% off) with low shipping fees.
According to a sales manager of the company, "All the newly released outfits are made with comfortable-to-wear materials, and each peice is reasonably priced." Featured with modern looks, these outfits are exquisitely tailored by the company's seasoned workers. The principal object of the company is to provide worldwide customers with the best clothes.
"We take pride in our fancy dresses for women. They are incredibly affordable at the moment. Almost all of our products are trendy; some of them never go out of season. I think they will sell well in the market. What's more, we offer a nice, online service at our website. Everyone is welcome to visit our online store and sign up to be a VIP," he said happily.
Now, the top experts from the company are trying to create more fashionable clothes for worldwide clients. Also, the company is making every effort to offer an enjoyable shopping experience for those who visit the website frequently.
About Skmen.com
Skmen.com, a China-based company founded in 2009, is one of the leading suppliers of men's and women's high quality clothes. It has more than 5000 customers from every part of the world. For more detailed information about the company and its wonderful items, please visit http://www.skmen.com/product-women-s-dresses-003004.aspx.