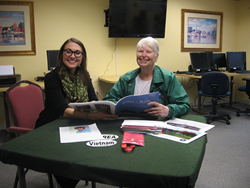 I will never forget the experience, Louise Perkins said. The trip planners thought of everything to make us feel special and respected.
(PRWEB) March 18, 2014
Lake Prince Woods retirement community in conjunction with Medi Home Health will offer World War II veterans an opportunity to hear about Honor Flight Historic Triangle Virginia, an organization whose goal is to take every WWII veteran in Hampton Roads to the war memorials in Washington, D.C.
The program is free and open to the public on Friday, March 21, at 2:00 p.m. at Lake Prince Woods.
Anastasia Economou, Community Educator with Medi Home Health, will present the program.
Honor Flight trips have recently been opened to Korean War veterans, as well, and Louise Perkins, a Lake Prince Woods resident, who served in the U.S. Air Force during the Korean War, went on an Honor Flight trip in October, 2013.
"I will never forget the experience," she said. "We were treated like royalty from the minute we began the trip until late that night when we returned home. The trip planners thought of everything to make us feel special and respected; the attention to detail was amazing."
Honor Flight Historic Triangle Virginia (HFHTVA) is a Williamsburg-based non-profit organization established in October 2008 with one goal: To take every World War II and terminally ill veteran in the Hampton Roads and Richmond areas to visit the World War II Memorial in Washington, DC. In addition to the WWII Memorial, other scheduled stops include Arlington National Cemetery and the Marine Corps War ( Iwo Jima) Memorial, Korean War, and/or Vietnam War Memorials.. All veterans on the trip are accompanied by a trained volunteer guardian, who will assist the veteran for the entire day, and a staff of certified Emergency Medical Technicians / Paramedics to ensure everyone safety throughout the trip.
For more information, please contact Denise Brown, Resident Services Director, at 923-5513 or dbrown(at)uchas(dot)org.
Lake Prince Woods is a residential retirement community offering an array of lifestyle choices. Located in Suffolk, Virginia, the community is nestled among 172 lovely wooded acres bordering Lake Prince. As a continuing care retirement community, Lake Prince Woods offers residential living, assisted living, memory care and skilled nursing care. To learn more, visit the website: http://www.lakeprincewoods.org.