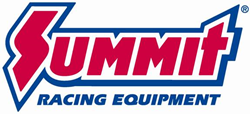 Tallmadge, OH (PRWEB) March 20, 2014
Ideal for dual-purpose street/drag race cars, these new products from Summit Racing will help racers increase horsepower, improve track times, and provide valuable performance data.
AUTO METER ULTIMATE III AND ULTIMATE DL PLAYBACK TACHOMETERS
With advanced playback and data logger capabilities, the Auto Meter Ultimate III tachometers are designed for the serious bracket and sportsman racer. Dual channels record the engine and driveshaft rpm for comparison. The new Ultimate III and Ultimate DL Playback Tachometers are designed for the serious bracket and sportsman racer.
COMP CAMS PHASER CAMS FOR LATE MODEL CHRYSLER HEMI
COMP Cams' new Chrysler Hemi Phaser Camshafts are designed specifically to the factory VVT system to improve low-end torque production and top-end horsepower over the factory camshaft. The design also maintains adequate piston-to-valve clearance without the need for stiffer valve springs. That saves time and money.
SUMMIT RACING STREET & STRIP® NITROUS TORQUE CONVERTERS
Summit Racing's Street & Strip® Nitrous Torque Converters are designed specifically for nitrous, high-boost supercharging (over 12 psi) and race cars running trans-brakes. The converters have fully furnace-brazed fins and anti-ballooning plates to help absorb the shock of large hits of nitrous or boost.
Summit Racing Equipment
http://www.SummitRacing.com
1-800-230-3030