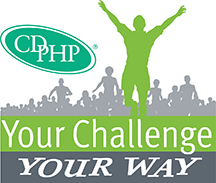 Albany, NY (PRWEB) March 17, 2014
Fitness is not a "one size fits all" approach, and CDPHP does not plan to treat it that way. That's why the health plan is launching Your Challenge, Your Way, a program that has the tools and resources to set a goal – and reach it.
Your Challenge, Your Way is an eight-week program with a choice of three goals to pursue:

Walk your first 5K
Run your first 5K
Run your fastest 5K
After choosing a challenge, participants will receive weekly tips, tools, and personalized motivation. This is the perfect opportunity for runners and walkers gearing up for the CDPHP Workforce Team Challenge, the largest annual road race between Utica and New York City.
Each week, five lucky participants will win a FitBit® One™, a fitness tracking device that measures steps walked, calories burned, stairs climbed, and even sleep quality, to help further track their success.
Sign up for Your Challenge, Your Way today at http://www.cdphp.com/challenge.
Please note that members of A Team L.L.C., CDPHP® Medicaid Select, Family Health Plus, or Child Health Plus are not eligible to enter. You must be 18 or older to participate.
About CDPHP
Established in 1984, CDPHP is a physician-founded, member-focused and community-based not-for-profit health plan that offers high-quality affordable health insurance plans to members in 24 counties throughout New York. CDPHP is also on Facebook, Twitter, LinkedIn and Pinterest.