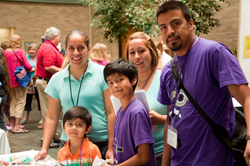 Great to meet new people and try out fun and relaxing things!
Springfield, Illinois (PRWEB) March 18, 2014
Illinois Connections for Families of the Fallen (ICFF), will host a free event in Springfield, Connections in the Capitol City, on April 5, 2014. This event is designed for all ages and relationships to Fallen Service Members including: children, teens, siblings, spouses, parents and others. Anyone is welcome regardless of their relationship to the Fallen, the circumstances in which the Service Member died, or the duty status of the Service Member.
Please join us for an uplifting day full of opportunities to share memories, make new friends, and connect with resources. Counselors and child care will be available. The event will include interactive workshops about topics like the changing roles within the family, reaching out to other families dealing with loss, coping with suicide, cooperative games for teens and older children, how to handle the press, and more. Register now at http://tinyurl.com/ConnectionsintheCapitol.
ICFF is a non-profit, collaborative effort of representatives from over 25 local, state, and national agencies dedicated to helping Illinois Families of Fallen Service Members. The mission of ICFF is to connect Families of Fallen Service Members to services, resources, and peers to help families find their new normal.
DATE: Sat., April 5, 2014
TIME: 9:00 a.m. to 4:00 p.m.
PLACE: Hilton in Springfield at 700 E Adams St., Springfield, IL 62701
COST: Free
SIGN UP: Online registration is available now at http://tinyurl.com/ConnectionsintheCapitol