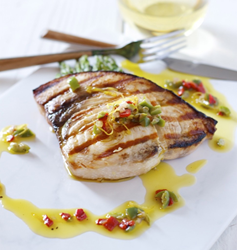 (PRWEB) March 18, 2014
Ever buy a nice piece of fresh swordfish and ruin it with overcooking or the wrong combination of ingredients? It may be a common disappointment – but it is also preventable. Luckily, GetMaineLobster.com is here to help, now presenting 4 steps to perfectly grilled swordfish.
These thick, firm, rose-red steaks are perfect for the grill. Brushed generously with olive oil, they slide sizzling and succulent from the flame to plate in minutes, glistening like jewels when these simple steps are followed. These tips apply to grilling tuna steaks, too!
1. Marinade, or brush with butter or olive oil?
This is up to the griller – just make sure that the choice is one or the other. The moisture will prevent the swordfish from becoming too dry as it is cooked.
For best results in marinating swordfish, douse the steaks in a glass bowl, cover, and refrigerate for at least four hours. There's always the option of making a little extra marinade for spooning over the swordfish once it is cooked. Lemon, soy or teriyaki sauce, salad dressing, and gourmet vinegars are just a few of the many options tat can be chosen for a marinade.
Alternatively, brushing the swordfish steaks with good olive oil and/or butter is about as simple and delicious as it gets.
2. Season.
Seasonings applied to swordfish are also limitless because this fish's mild flavor allows for versatility in preparing it.
3. Heat the Grill.
Preheat the grill to medium high, making sure the swordfish steaks are not placed directly on the flame. Brush the grill racks with oil to prevent the steaks from sticking to it. Keep a close eye on the steaks as they cook, looking for that beautiful rose-red meat to turn white about one third the way up from the center of the steak.
Once they have reached that point, flip and again, ever so carefully, grill until the meat turns white only one third of the way up to the middle and pulls flaky from a fork. NOTE: Avoid cooking the meat white all the way through. Swordfish takes approximately 5 to 7 minutes to cook, depending on the thickness of the steak.
4. Serve.
Place the perfectly grilled swordfish on a serving platter with favorite garnish, such as rosemary or parsley. Enjoy!
About GetMaineLobster.com
GetMaineLobster.com, a division of Black Point Seafood and Black Point Gourmet, hand-selects the finest Maine lobster, seafood and beef products for convenient distribution throughout the United States. Their passion is to make fresh, quality seafood readily available to customers across the country, which is why they buy from only the most trusted, well-established suppliers to ensure that they receive the finest products available.
GetMaineLobster.com was selected out of the more than four million small American businesses served by Chase bank to represent its new Platinum Business Checking product for its 2013 national advertising campaign.