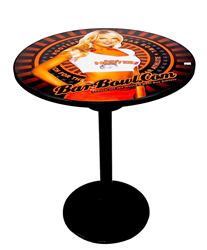 MagneticSkins Media Pairing Featured Brands and World Class Events
Los Angeles, California (PRWEB) March 18, 2014
Animal Marketing LLP, an industry leader in creative and innovative marketing, is announcing the launch of its MagneticSkins Media program.
In a world of endless choices how do you get noticed or chosen? Brand awareness is key and product placement is absolutely crucial. Getting your product into the purchasing corridor should be first and foremost. The MagneticSkins Media cuts through all the clutter and indecision as partnering brands are positioned directly in the purchasing pathway.
As part of this initiative key bars, restaurants, stadiums and events will receive the Patented MagneticSkins Tables at zero cost to work in conjunction with the world's largest brands. The Patented MagneticSkins will then be changed out to reflect the most relevant messaging featuring leading brands, top sporting events, music and entertainment.
"To date there has not been a platform allowing such innovative and impactful branding to be positioned directly in front of the motivated consumer." Edgar Davis, President of Animal Marketing speaks to the excitement surrounding this program. "The MagneticSkins Media focuses on driving, leading, strengthening consumer to brand relationships."
Davis added, "We consider the MagneticSkins Media the 'spontaneous guest' bringing excitement, conversation, and energy to the gathering."
The MagneticSkins Media is the perfect fusion between the establishment and the brand. The establishment receives the tables at zero cost, a monthly re-energized look, and a big fat royalty check through the MagneticSkins Media Exchange. The Partnering Brands will have access to our ever-expanding network with 2014 numbers expected to reach 3 000 000 impressions and 1 500 000 daily calls to action.
Taking it one step further The MagneticSkins Bucket Tables can be provided to the participating establishments, where legal, creating the "Instant Access Sections". Here consumers have immediate access to chilled beverages eliminating unnecessary wait times and increasing the likelihood of the consumer continuing with the participating brands throughout the duration of their social outing. The concept is very similar to a hotel minibar experience where you are only charged for what you consume but wherein these prices will most likely be cheaper than the one-off purchase.
Animal Marketing LLP:
Animal Marketing is a leading marketing firm focused on creativity, originality and innovation. Over the last 20 years, the company has partnered with many of North America's largest organizations, with a particular focus on the sports, beverage and retail industries. Animal Marketing has led many innovative first-to-market campaigns for these organizations, and remains a leading practitioner of creative marketing.
Contact:
http://www.magneticskins.com
310-349-1100