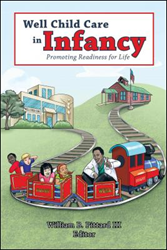 Charleston, S.C. (PRWEB) March 19, 2014
The long-debated dangers of childhood vaccines, coupled with restrictive insurance policies and an ignorance surrounding pediatric care, have caused many families to forgo proper preventative care. And while parents and healthcare providers agree that preventative is beneficial to a child's well-being, many children fail to meet the recommendations outlined by the American Academy of Pediatrics (AAP).
With his new book "Well Child Care in Infancy: Promoting Readiness for Life," award-winning pediatrician Dr. William Pittard strives to raise awareness about the benefits of preventative care and provide a brighter future for our children.
With more than 35 years of experience in academic pediatrics, Pittard leverages his professional expertise alongside empirical data to illustrate the value of preventative care. "Well Child Care in Infancy" is one of the first books to summarize the clinical effectiveness of the non-immunization components of well child care, including parental health education, developmental screenings, behavioral assessments and physical examinations.
According to Pittard, the problem with our nation's approach to preventive health care is threefold. Until recent years, there has been a severe lack of data to demonstrate the effectiveness of preventative care in infancy. This data is necessary to justify changes to insurance policies, which often do not provide the coverage needed to satisfy the AAP's preventative care recommendations. Without the insurance coverage to support proper preventative care, many children don't receive the health care required for physical and academic success.
As a result of this paradigm, many parents are unaware of pediatric guidelines and take an economical approach to preventative care. Pittard argues that while preventive care seems like a costly option, it is more cost effective than urgent care visits and emergency procedures.
Pittard hopes that his book will serve as a catalyst for change and lead to an increased utilization of well child care. This change, he says, is crucial to ensure a successful future for our children.
Well Child Care in Infancy: Promoting Readiness for Life
By William B. Pittard III
ISBN: 9781481752411 (sc)
Softcover, $16.95
Hardcover, $27.99
Ebook, $3.99
Approximately 221 pages
Available at http://www.amazon.com and http://www.barnesandnoble.com.
About the author
Dr. William B. Pittard is a board certified pediatrician with more than 35 years of experience in academic pediatrics. Pittard is a professor emeritus of pediatrics at the Medical University of South Carolina, where he also served as director of neonatology. In 2010, he received the Special Achievement Award from the American Academy of Pediatrics' South Carolina Chapter for his assessment of medical home care in South Carolina. Pittard received his doctorate from the University of Virginia School of Medicine. He is member of the Society for Pediatric Research, the Southern Medical Association, the National Perinatal Association and the American Academy for the Advancement of Science, among others. He currently resides in Charleston.
###
For review copies or interview requests, contact:
Stephanie Perry, sperry(at)bohlsengroup(dot)com
317.602.7137
(When requesting a review copy, please provide a street address.)