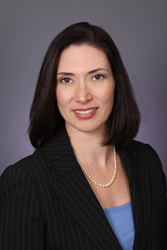 Hélène has an impressive win rate over the course of her career, and we're looking to capitalize on her deep experience.
Bethesda, MD (PRWEB) March 18, 2014
Catapult Technology, Ltd., a leading federal government contractor that provides a wide array of information technology and management consulting services, announces that Hélène J. Courard, JD, AM.APMP, has joined the company as Vice President, Capture and Proposals.
Courard brings more than 20 years of experience in leading and motivating business development, capture, and proposal teams. In her new role, she will focus on process improvement and effective execution of all elements of the business capture and proposal program, and lead Catapult Technology's future strategy and execution of significant capture and proposal efforts for federal government clients.
"Hélène has an impressive win rate over the course of her career, and we're looking to capitalize on her deep experience," said Shawn Bethea, Vice President of Business Development. "She brings a bench of knowledge in the areas of opportunity lifecycle development, operations, and governance that will benefit Catapult."
"Hélène's extensive experience in improving processes, developing tools to streamline work, and managing business operations have proven to increase the quality and efficiency of capture and proposal operations, and we look forward to utilizing her skills at Catapult," said Dave Lyons, Executive Vice President, Service Delivery.
Courard comes to Catapult from Salient Federal Solutions, where she was Vice President of Corporate Capture Management. She has also held various leadership positions at such firms as Lohfeld Consulting Group, Computer Sciences Corporation, Blumenfeld & Cohen, and Qwest Communications International. She is an active member of the Association of Proposal Management Professionals, NCA Chapter, holds several other professional memberships, and is a member of the California and Washington DC Bars.
About Catapult Technology
Catapult Technology, Ltd. is a mid-tier consulting firm that provides a wide range of information technology and strategic consulting services to a breadth of federal civilian, defense, and intelligence agencies. Catapult was founded in 1996 and is headquartered in Bethesda, Maryland. It is a DC Capital Partners portfolio company. Learn more at http://www.catapulttechnology.com.