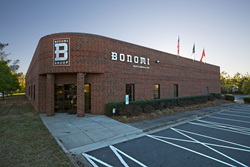 The Bonomi Group is the only manufacturer of both low-torque, high-performance, direct mount ball valves and pneumatic and electric actuators.
Charlotte, NC (PRWEB) March 20, 2014
Bonomi North America, Inc., a subsidiary of Italy-based valve and actuator manufacturer Bonomi Group, recently relocated its corporate office to 750 Imperial Court, Charlotte, North Carolina. The company plans to expand its newly acquired facility in the near future to add assembly operations and support staff.
"We chose to relocate to Charlotte after outgrowing our original space in Rock Hill. Charlotte is the ideal location for us – it's in the heart of our customer base, offering the international and professional setting a world leader like Bonomi requires for further growth," said Alberto Malaguti, general manager of Bonomi North America.
Bonomi North America, formerly Bonomi USA, started in business in Rock Hill, South Carolina, in 2003 to market the Bonomi Group's RB, Valpres and Valbia product lines to commercial, institutional and industrial markets in the United States as a singular source for valves and actuators.
Now in Charlotte, North Carolina, the company is one of the fastest-growing valve manufacturers in North America due to its specialized product offering and its ability to stock millions of dollars in inventory for immediate delivery. Bonomi North America also operates a warehouse and office in Oakville, Ontario, Canada. The company maintains an extensive distribution network throughout both countries.
Valves and Actuators Matched for Better Performance
The Bonomi Group is the only manufacturer of both low-torque, high-performance, direct mount ball valves and pneumatic and electric actuators. Bonomi valves and actuators are easily mated together in automated valve packages. This simplifies manufacturing plant automation and commercial building operations while maximizing flow control performance.
Bonomi products are used in heating, plumbing, industrial water and steam, skid mounted pumping systems, irrigation, fire suppression, power generation, chemical processing, pulp and paper and many other industrial and commercial applications.
More Than a Century of Flow Control Expertise
The Bonomi Group of Italy operates three separate vertically integrated and fully automated valve and actuator manufacturing centers. Rubinetterie Bresciane Bonomi (RB) was founded in 1901 in Lumezzane, Italy, as a faucet manufacturer. Today RB is housed in a 385,000-square-foot space in Gussago, Italy with a fully automated brass forging, machining, and complete production and assembly unit for brass ball and check valves.
Valpres is located in Marcheno, Italy. Founded in 1978, the company occupies 90,000 square feet of manufacturing space and specializes in carbon and stainless steel ball valves in threaded, weld end, cryogenic and flanged ends through ANSI class 1500.
Valbia, founded in 1995 and located in Lumezzane, Italy, is housed in a 107,000-square-foot facility and is already considered one of the leading actuator manufacturing centers in the world. Valbia manufactures both pneumatic and electric industrial actuators and has been marketing them worldwide for more than 25 years under the Valbia name and as private label products.
For more information about Bonomi or Bomomi products, contact Bonomi North America at (704) 412-9031 or visit online at http://www.bonominorthamerica.com.