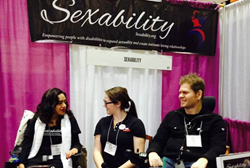 The IntimateRider received the most interest at the Expo
Burnsville MN (PRWEB) March 20, 2014
IntimateRider demoed its top selling patented safe sex products, RiderMate and IntimateRider, at the 30th Annual Los Angeles Abilities Expo. Dr. Rafe Briggs, founder of Sexability, a company that educates people with physical disabilities on how they can develop and deepen enriching intimate relationships, showcased the IntimateRider products at the Expo that was held at the Los Angeles Convention Center.
The Expo displayed products that are built to improve the lives of the nearly 36 million Americans who are living with one or more disabilities. Thousands of people, including healthcare professionals, wounded military veterans, senior citizens and caregivers attended the Expo. Interest in the IntimateRider was strong. Dr. Briggs shared that, of the two products he demoed at the event, "The IntimateRider received the most interest at the Expo."
Dr. Briggs continued by saying, "Attendees liked the ease of transfer back-and-forth with the IntimateRider. Among the people most interested in the IntimateRider were people with spinal cord injuries." Several of the attendees had previously heard about IntimateRider products. However, this marked the first time that those people had actually seen or demoed one of the IntimateRider products up close and in-person.
In addition to showcasing IntimateRider products at the 30th Annual Los Angeles Abilities Expo, Dr. Briggs spoke at a local Expo radio show, sharing information about Sexability with attendees and listeners as well as mentioning the fact that Sexability is a dealer for IntimateRider. During the local Expo radio show, Dr. Briggs also introduced listeners and Expo attendees to Sexability's upcoming webinar "Transforming Sexuality After Spinal Injury" and the consulting work the firm does with rehabilitation centers and universities.
Regarding what he appreciated most about this year's Expo, Dr. Briggs said, "I most enjoyed the attention our booth got from the attendees. Several people told us this was the most important organization at the Expo because sexuality and disability is a taboo topic, but it is a very important part of people's lives." Both IntimateRider and Sexability are committed to bridging the gap between disabilities and abilities for millions of Americans, a hallmark dedication of Los Angeles Abilities Expo exhibitors.
About IntimateRider
IntimateRider, is a division of Health Postures, a premier designer and manufacturer of health products, including workplace ergonomics and sexual positioning products for physically disabled men and women. IntimateRider products are designed to help adults with arthritis, multiple sclerosis, cerebral palsy, spinal cord injuries, joint replacements and other physical challenges to realize. The products have been on the market since 1996.
Contact:
IntimateRider
14310 Ewing Avenue South, Suite 100
Burnsville, MN 55306
952-873-6136
http://www.intimaterider.com
About Sexability
Sexability was founded in 2006 by Dr. Rafe Briggs. The company is committed to "empowering people with disabilities to expand sexuality and create intimate, loving relationships." Toward this goal, the company host support groups and leads educational seminars on topics such as self-identify, self-image and body image; desires and communication; dating with disability; maintaining a healthy sex life and family planning.
Sources:
http://www.abilitiesexpo.com/losangeles/index.html
http://www.sexability.org
http://www.disabled-world.com/disability/statistics/census-figures.php