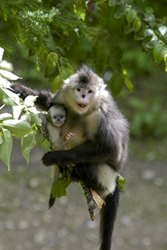 "The Nature Conservancy's work really stimulates people and gets them excited about nature," says Shawn Zhang, The Nature Conservancy's China program director
Arlington, VA (PRWEB) March 19, 2014
The Nature Conservancy and WeChat are teaming up to make staying connected to nature easier for smartphone users. To kick-off this new partnership, from March 1st through June 30th, 2014, WeChat will donate $5 to The Nature Conservancy for every new user who downloads the app and follows the Conservancy's official account, for up to one million dollars in support.
The Nature Conservancy's WeChat account will be a new destination where users can learn more about the Conservancy's work to benefit nature and people, find ways to get involved and access daily nature photographs and a host of other fun surprises.
"We are thrilled to partner with The Nature Conservancy and help amplify the organization's amazing conservation efforts," said Jameson Hsu, GM of WeChat USA. "By following The Nature Conservancy on WeChat, you have access to all the information about getting involved in conservation efforts. It's an exciting example of how technology and a leading non-profit organization can collaborate to address important causes."
The funds from this partnership will be used to further the Conservancy's work on projects such as helping sea turtles make a comeback around the world and saving the mysterious Yunnan golden monkey found in the remote forests of southwestern China.
"The Nature Conservancy's work really stimulates people and gets them excited about nature," says Shawn Zhang, The Nature Conservancy's China program director. "By partnering with WeChat USA, we are able to inspire a broader and more global group who want to learn more about how they can get involved and also connect with others with similar interests."
Smartphone users can support the Conservancy and learn more about nature photography by downloading WeChat and adding "Nature_org" as a contact to follow the official account. After downloading, just tap "Contacts" in the menu bar -> "Add" and type the ID "Nature_org" in the search field.
About WeChat
WeChat, WeChat envisions and innovates new ways for people to connect, communicate and share. A mobile social communication app designed for smartphone users, WeChat is the world's fastest growing social app with over 100 million registered accounts internationally. WeChat empowers users in fun and dynamic ways by bringing together messaging, social communication and gaming in one seamless, interactive experience, with comprehensive privacy and security settings that can be tailored as needed.
WeChat is an all-in-one app that enables users to add friends with several innovative features. These include highly convenient and reliable QR code scanning, phonebook and location-based connection services such as "Hold Together," "People Nearby" and "Shake." The platform facilitates social interaction with real-time "Walkie Talkie," "Voice Call," and "Video Call." Supported on data networks and Wi-Fi, WeChat makes it easy to stay connected with friends anywhere, anytime. Users can choose to communicate and share photos one-on-one, or within their closed social network through "Moments." The popular WeChat Sticker Shop has a variety of fun animated emoticons to express any emotion. Also, with a host of addictive WeChat Games, users can play and challenge their friends on the move, share scores and even find competitors nearby.
WeChat is available free for download on Android, BlackBerry, iOS, Symbian and Windows operating system.
This WeChat USA promotion is being sponsored by Tencent America LLC
About The Nature Conservancy
The Nature Conservancy is a leading conservation organization working around the world to protect ecologically important lands and waters for nature and people. The Conservancy and its more than 1 million members have protected nearly 120 million acres worldwide. Visit The Nature Conservancy on the Web at http://www.nature.org.