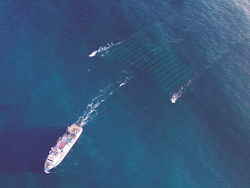 San Jose, CA (PRWEB) March 19, 2014
Geometrics, Inc., a leading provider of geophysical data acquisition equipment, today announced that WGP Survey LTD, a provider of high-resolution marine seismic services, has purchased a P-CableTM ultra-high-resolution 3D seismic acquisition system. The P-Cable was chosen by WGP for their summer 2014 multi-client program in the Barents Sea. Information regarding the project is available in WGP's March 5th news article.
The P-Cable system is a platform for towing up to 24 Geometrics GeoEelTM hydrophone cables.
Geometrics is a division of OYO Corporation and headquartered in San Jose, CA. The company is a world-leading designer and manufacturer of land, marine and airborne geophysical hardware, sensors and software, covering seismic, magnetic, and electromagnetic technologies. Founded in 1969, Geometrics began operations developing innovative magnetometers and now has representatives worldwide in over 50 countries. With over 40 years of field experience and extensive knowledge, Geometrics' staff of engineers and technicians has worked with universities, research institutions, government agencies and exploration companies to provide solutions to all kinds of geophysical and geotechnical exploration needs. For more information visit http://www.geometrics.com.
WGP Survey LTD, a subsidiary of WGP Group, is a provider of UHR3D seismic services using the Geometrics P-Cable system exclusively. For more information, go to http://www.wgp-group.com/services/hi_res.html.