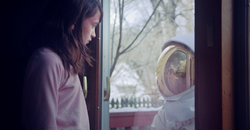 "A beautiful, intriguing, and engaging story of a subject rarely touched on from this particular point of view."
New York, NY (PRWEB) March 19, 2014
On the evening of October 4th, 2013 "The Earth, The Way I Left It" debuted at Woodstock film festival where it was awarded the prize for "Best Short Narrative". Coming off the heels of their win, the short film garnered another major recognition as it was announced that it would be joining the official selection of the 45th annual Nashville Film Festival. "The Earth, The Way I Left It" was co-written and directed by emmy award winning director Jeff Pinilla. Along with Pinilla, co-writer Matthew Pourviseh (A Nashville native) also produced the short. With Academy Award qualifying status and numerous well-attended shorts programs, this honor makes for the films biggest festival debut to date. It was voted one of "25 film festivals worth the entry fee" by MovieMaker Magazine and highlighted as One of the Best Film Festival Prizes by Film Festival Today. Brooks Institute named it one of the top 5 film festivals in the U.S.
"A child coping with death in the family is visited by a stranger from the stars." The short film's theme involves the way a child's imagination protects their innocence and explores the coping mechanisms children use to deal with death. While the film has garnered attention on the festival front, on the technical side, creating this film was no easy feat.
The film was funded by over 200 individuals through a 60 day fundraiser via website rockethub.com. Full Sail University grad's Jeff Pinilla, Matthew Pourviseh, Justin Simpson (director of photography) and Mark Koenov (VFX specialist) decided to push the boundaries by using different techniques and tactics. On paper, the story emotes nostalgia and fantasy. In order to get the words to read on screen (keep in mind, the film has no dialogue) the team decided it was best to shoot in different formats. Combining the Red Epic with Super 8mm film, the visual aesthetic reels the audience back to a time period reminiscent of the days when our childlike eyes viewed the world so differently. Through a mix of visual and practical effects, including an entire yard of polymer snow created by the crew, the films challenges and scope are all used to enhance what some have called a "beautiful, intriguing, and engaging story of a subject rarely touched on from this particular point of view."
For a look at the trailer, official screening dates, and more, please visit: earththewayileftit.com.
"The Earth, The Way I Left it" stars Amelia Osborne, Erik Roccapriore, and Justice Marshall. It is written by Jeff Pinilla and Matthew Pourviseh and is Directed by Jeff Pinilla.