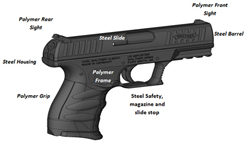 Fort Smith, AR (PRWEB) March 20, 2014
Utilizing the new Walther SoftCoil™ gas- delayed blowback technology, Walther Arms, Inc. has introduced its latest concealed carry firearm – the CCP. This concealed carry semi-automatic pistol comes chambered in 9mm and is the ultimate concealed carry pistol.
Weighing only 22.33 ounces when empty, the CCP's Soft Coil™ gas-delayed blowback system uses gas pressure from the ignited cartridge that is directed through a small port in the barrel (in front of the chamber) to slow down and delay the rearward motion of the slide. This is accomplished by means of a piston contained inside of a cylinder located under the barrel that opposes the rearward motion of the slide until the gas pressure has declined - after the bullet has left the barrel - hence allowing the slide to end its rearward motion, opening the breech and ejecting the empty cartridge case. Two other benefits to this system are the Soft Coil™ technology allows the slide to be easily racked and because barrel rise is reduced, the shooter can remain focused and accurately on target. Tests show that the barrel rise is up to one third less than similar models on the market allowing shooters to be more accurate on follow-up shots.
The CCP has an ideal combination of style, ergonomics, size, shape, accuracy, and ability to conceal comfortably. With an overall length of just 6.41 inches, Walther's CCP is a sleek solution to concealed carry protection. The new model's barrel length is 3.54 inches and its width only 1.18 inches making it easily carried in a purse or inside-the-pant holster. The CCP comes in stylish stainless or Cerakote® black and provides all the features that have become signature of Walther's line of pistols—smooth 5.5 pound trigger pull, interchangeable front sight with white dot; adjustable rear sight; and reversible magazine release for left- or right-handed operation.
This new single-stack semi-automatic has a magazine capacity of 8 rounds. For maximum safety, the CCP comes equipped with a slim manual thumb safety and one internally that acts as a firing pin block. As with all Walther firearms, the CCP has an ergonomic grip with a unique non-slip surface. Other key attributes of the firearm include an easy access slide stop; loaded chamber indicator for added safety; and front, rear and trigger guard serrations for additional safety and control of its easily manipulated slide. The suggested manufacturer's retail price for the Walther CCP is $469-489.
About Walther Arms
Entering its 130th year, Walther has earned the trust of law enforcement professionals, recreational shooters, and athletes through its line of reliable pistols and tactical rimfire replicas. Walther Arms manufactures and markets firearms of various calibers ranging from .22 to .40. For more information, visit http://www.WaltherArms.com.
###
Technical Specifications
Caliber: 9 mm Luger
Overall Length: 6.41 inches; 163mm
Height: 5.12 inches; 130mm
Width: 1.18 inches; 30mm
Weight, w/empty magazine: 22.33 ounces; 633 g
Barrel Length: 3.54 inches; 90mm
Operation: Blowback
Trigger Weight: 5.5 pounds; 2500 g (single action only)
Front Sight: Interchangeable (three heights)
Rear Sight: Adjustable for windage only
Safeties: Manual Safety; Firing pin block
Magazine Capacity: 8 rounds