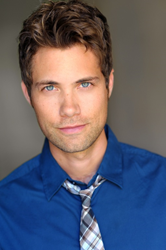 Story-telling is the heart of the entire entertainment industry, and this night properly recognizes that.
Hollywood, CA (PRWEB) March 18, 2014
The 30th anniversary of the L. Ron Hubbard Awards for winners of the internationally-acclaimed Writers and Illustrators of the Future Contests will be held in Los Angeles at the Wilshire Ebell Theatre on Sunday, April 13th and contest organizers announced today that Drew Seeley will open the event.
Celebrities and luminaries from around the world of science, science fiction and fantasy and the film industry are expected to attend the gala event.
Drew stated about the event, "It's so refreshing to have an event solely focused on the often overlooked contributions of writers and illustrators. I'm thrilled to be involved this year, and want to congratulate not only the winners but all of the participants for their valuable and important efforts. Story-telling is the heart of the entire entertainment industry, and this night properly recognizes that."
Drew grew up in Toronto and has been performing since the age of 11. In 2005 Drew started working with established producer Ray Cham and together they wrote "Getcha Head in the Game" for Disney's quadruple platinum High School Musical soundtrack. This garnered them an Emmy nomination in the "Best Original Song and Lyrics" category. In addition, Drew co-starred in the North American and Latin American tours of "High School Musical: The Concert" playing in 60,000 seat arenas. Drew's song and video "Dance with Me", from the platinum Cheetah Girls 2 soundtrack, can be seen on the Disney Channel and he also appeared in Belinda Peregrin's music video "Ni Freud, Ni Tu Mama".
He wrote and performed music for the Disney Channel Original Movie "Jump In!" starring Corbin Bleu, and his spin on America's 'Magic' was released on the "Wizards of Waverly Place" soundtrack. He has recently been on a national tour performing original music from his debut album 'The Resolution'
"Cash prizes of $10,000.00 for the grand prize winners alone and inclusion in the 30th annual "L. Ron Hubbard Presents Writers of the Future" anthology (Galaxy Press, 2014) make this a very special night," Joni Labaqui, director of the contest said. Presentation of the Gold Awards for the year's best story and illustration will culminate the evening.
The Writers of the Future Contest and the companion anthology were created by L. Ron Hubbard 30 years ago to help discover new, aspiring writers of speculative fiction and give their best work a high-profile publishing showcase.
To date, the Contests have given rise to scores of flourishing careers, including New York Times bestsellers Dave Wolverton (On My Way to Paradise) , Sean Williams (Star Wars - The Force Unleashed), Karen Joy Fowler (Jane Austin Book Club), Patrick Rothfuss (Name of the Wind,The Wise Man's Fear), Nancy Farmer (The Ear, the Eye and the Arm), Jo Beverley (A Lady's Secret), Lisa Smedman (Extinction), Tim Myers (Basho and the Fox), Tobias Buckell (Halo: The Cole Protocol), Eric Flint (1632), Dean Wesley Smith (Men In Black), and Elizabeth Wein (Code Name Verity).
The winners are chosen by a blue-ribbon panel of judges, famous authors in speculative fiction including; Tim Powers, Kevin J. Anderson, Larry Niven, Jerry Pournelle, Orson Scott Card, Robert J. Sawyer, Sean Williams, Dave Wolverton, Brian Herbert, Rebecca Moesta, Nina Kiriki Hoffman, Gregory Benford, Doug Beason, Eric Kotani, Mike Resnick, Eric Flint, Kristine Kathryn Rusch, Dean Wesley Smith, Todd McCaffrey and Nnedi Okorafor.
The just as impressive illustrator judge roster has included in its history: Frank Frazetta, Frank Kelly Freas, Jack Kirby, Dave Dorman, Cliff Nielsen, Vincent Di Fate, Bob Eggleton, Stephen Hickman, Stephan Martiniere, Diane and Leo Dillon, Ron Lindahn, Val Lakey Lindahn, Judith Miller, Stephen Youll, H.R.Van Dongen, Laura Brodian Freas, Sergey Poyarkov, Robert Castillo, Gary Meyer and Larry Elmore.
For information and seat reservations, please call Joni Labaqui at 323-466-3310. For more information on the contest please visit http://www.writersofthefuture.com.