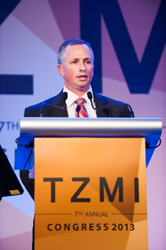 This will be a unique experience to understand important industry factors from a Chinese perspective
Shanghai, China (PRWEB UK) 19 March 2014
TZ Minerals International is pleased to announce an exciting new location for the TZMI Congress 2014 - Shanghai, China.
The main programme will take place at the Jing An Shangri-La Hotel, West Shanghai.
Strong delegate feedback and the continued importance of China were the driving factors in this decision.
To coincide with TZMI celebrating its 20th anniversary, the TZMI Congress will be held for the entire week, from Monday 10th November to Friday 14th November. Titanium and zircon information will fill the programme, covering all aspects of the industries across supply, demand and new innovations.
Focus on China - China Titanium and Zircon Day
In addition to delegates having the opportunity to experience updates of the global developments across the industry, a special day has been added to the programme to deep dive into China.
This will be a unique experience to understand important industry factors from a Chinese perspective, and also gain a greater knowledge of this important geographical influence.
The 'Focus on China' day is being organised in conjunction with a major Chinese industry association, to be announced soon.
Be sure not to miss the titanium and zircon industry event of the year.
PROGRAMME OUTLINE
Monday 10 Nov

Local Tour
Workshop
Welcome Reception
Tuesday 11 Nov

Day One: TiO2 Pigment and End Uses
Wednesday 12 Nov

Day Two: Titanium Feedstocks
Thursday 13 Nov

Day Three: Zircon and Titanium Metal
Friday 14 Nov

Day Four: Focus on China
Gala banquet dinner
Further information about the programme and registrations will be available soon.
About TZMI
TZMI is an independent consulting company,operating since 1994, that works with a wide range of global clients to provide insight and expert advice on opaque mineral, metal and chemical sectors.
TZMI is unique in that it has technical and operational experience, together with strategic and commercial competency, to provide a full service offering to clients.
As trusted advisors, TZMI's reputation is underpinned by having an experienced cross-section of technical specialists around the globe.
TZMI partners with clients from the private and public sectors to provide bespoke solutions across markets and strategic services as well as specialised technical and engineering services.
Clients range from the world's 500 largest companies through to mid-sized companies and small businesses.
TZMI regularly releases market reports and periodicals on relevant subject matters which support its primary consulting activities with up-to-date, high-quality and comprehensive data, analysis and information.
FURTHER INFORMATION
Tracey Kelly – BD and Marketing Manager
TZ Minerals International Pty Ltd
E: tracey.kelly(at)tzmi(dot)com
P: +61 8 9359 6000
http://www.tzmi.com