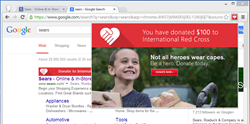 Many of the features identified as being beneficial for charities are the ones that the commercial market have successfully deployed
Alexandria, VA (PRWEB) March 20, 2014
The browser plug in experts BestToolBars have turned their attention to the not for profit sector in their latest study, researching the most effective features for charity browser plug ins.
In the results of their research, entitled "Top 5 Features of Charity Browser Plugin", BestToolBars have identified a handful of features that every charity browser plug in must have. Its analysis suggests that using these features can generate more than 30% of the total donations received online from users.
Valery Kuznetsov, Key Projects Manager at Besttoolbars said, "Many of the features identified as being beneficial for charities are the ones that the commercial market have successfully deployed. We found that applying them to charity browser plugins helped to encourage greater donations, which is of clear interest to not for profit organizations as they compete to make their voice and their cause heard online."
The first and most beneficial of the features was determined to be charity notifications. The live charity notification reminds the user that they can donate at the time of visit to the merchant website. This means that every possible opportunity to secure a donation is taken.
In second spot was SERP injection, which places an icon next to relevant merchant listings on the search engine result pages. Popular with cashback companies, SERP injection draw's the web user's attention to affiliated merchants when shopping online, helping the listings to stand out from other inclusions.
Thirdly, cross browser support was cited as being essential. Offered by the BestToolBars development team, cross-browser support is the practise of ensuring the plug in works seamlessly across the most popular web browers, ensuring no user encounters stability issues due to their choice of web browser.
In penultimate spot is a plugin menu with the user's charity balance. This feature shows the plug in user exactly how much they have ready to donate in their account. The menu is a valued feature which adds an extra layer of fun usability which also allows for affiliated merchants or special deals to be promoted unobtrusively.
Notification suppression rounds out the BestToolBars top five. This means knowing when not to show notifications which can be just as valuable as knowing when to display information to the user.
To read the list in full, visit http://www.besttoolbars.net/articles/top_5_features_of_charity_browser_plugin/
About Besttoolbars: Besttoolbars is a company well known for creating browser toolbars and add-ons. It has worked with an array of global brands, from start-ups to high-profile Fortune 500 corporations including Amazon, Skype, IBM, DHL, TNT and Intel. More than 7000 companies currently use solutions created on the Besttoolbars platform. Its product line includes:
Toolbar Studio: IDE for designing toolbars for Internet Explorer and Firefox
Add-ons Framework: Framework for building add-ons for Internet Explorer, Firefox, Chrome, Safari, and Opera
Besttoolbars also offers a number of services to help businesses integrate their products with desktops and mobile phones. It provides custom browser development, add-ons, add-ins and mobile app development.